Transforming Culture in Larger Organizations features real-world case studies and best practices for transforming organizational culture and is available now for free download.
San Francisco, Calif., July 2, 2018— SweetRush proudly announces the launch of a new eBook, Transforming Cultures in Larger Organizations, coauthored by the company's Director of Cultural and Organizational Transformation, Ashley Munday, and Barrett Values Centre's Network Director, Tor Eneroth.
In the eBook, Munday and Eneroth provide a holistic understanding of how leadership, strategy, values, and employee engagement are all critical to building your culture. The authors share case studies and best practices from working with leaders in larger organizations—important lessons learned that readers can apply to transforming organizational culture at enterprises of any size.
"Culture matters and makes a profound difference. Here at SweetRush, we are incredibly proud of our culture of respect and caring. We have near-zero turnover of both employees and clients, and our teammates are motivated and committed. We think who we are is just as important as what we do when it comes to helping you with transforming organizational culture," said Munday. "My hope is that readers will find this eBook to be helpful no matter where you are on your culture journey."
"We are so excited about this eBook. As an organization that has built and values our own exceptional culture, it's our mission to help other companies do the same," said Arturo Schwartzberg, SweetRush's Cofounder and Chairman. "Through this project, we are now able to share Ashley's impressive work and her insights that will help leaders transform their work culture and, as a result, have happier and more productive employees. Transforming organizational culture truly means transforming the world and making it better."
Transforming Culture in Larger Organizations is now available for free download on SweetRush's website.
About the Authors
Ashley Munday, Director of Cultural and Organizational Transformation at SweetRush
Ashley is a strategic advisor, change facilitator, and executive coach with over 20 years of professional experience. You can contact her at: [email protected].
Tor Eneroth, Network Director at Barrett Values Centre
Tor is responsible for the Network Team at Barrett. His role includes guest speaking, executive coaching, and consulting. He is also a member of the Barrett Values Centre Management Team. You can contact him at: [email protected].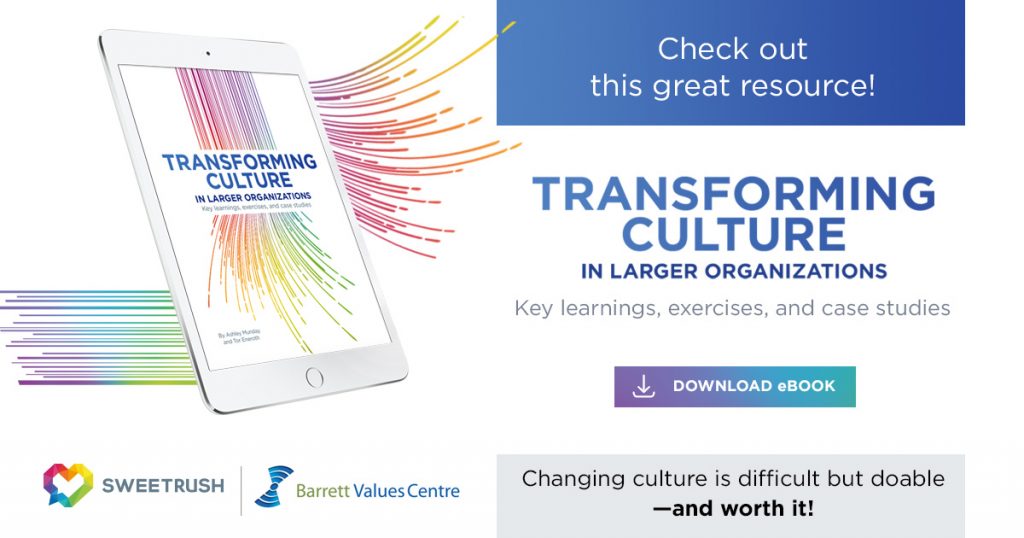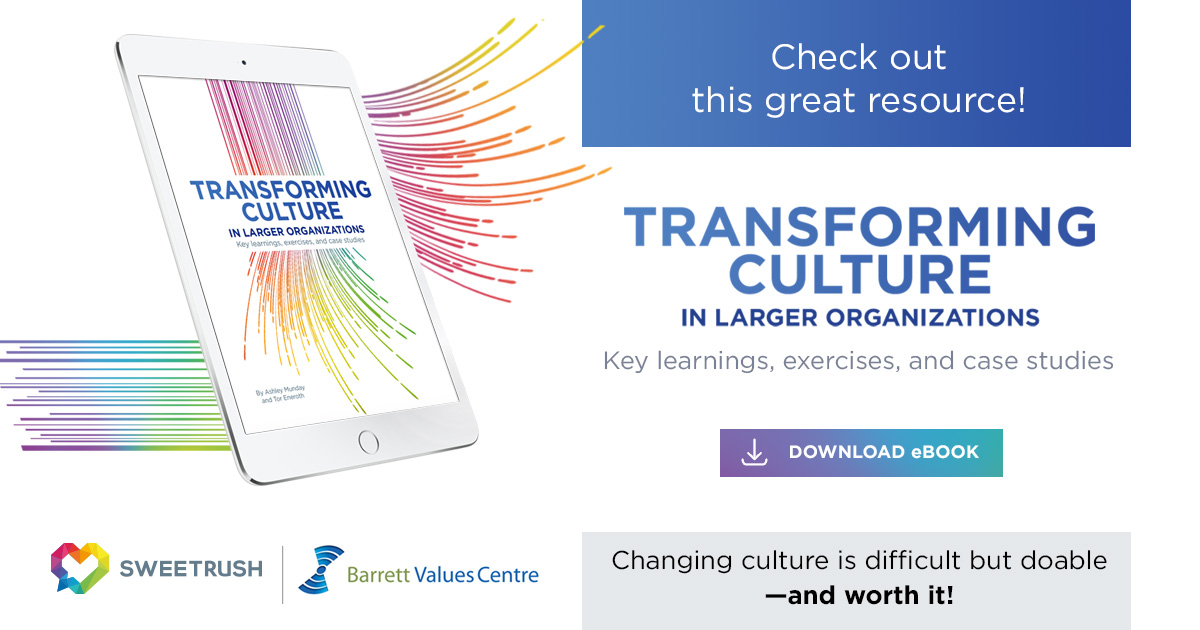 About SweetRush
Dream for a moment that you have the expertise and tools to positively impact the lives of others. You can affect mindsets and behavior. You can help an organization grow, change, prosper, and thrive. The passionate pursuit of this expertise and the development of these tools have been at the heart of the success SweetRush has experienced collaborating with clients who share the same dream.
SweetRush's focus on team culture and mastery of performance improvement is reflected in loyal clients, a near-zero turnover of teammates, a 16-year track record of success, and a remarkable portfolio. Our work with clients has earned us gold awards from our peers and high ranking on the top training industry lists.
Every solution we deliver is infused with creativity. Instructional creativity allows us to discover effective and unique solutions to our clients' challenges. Artistic creativity spurs us to create visually exciting, engaging user experiences. Technical creativity allows us to embrace new capabilities and platforms as they emerge, such as virtual reality, gamification, and mobile delivery. Cultural creativity empowers our clients to create the conditions that energize and empower their people and unleash the energy in their teams. Our Talent Solutions team builds on its unique knowledge of talent, team building, and learning and development to craft a unique, creative solution for clients who need the best temporary staff to augment their team. We apply the creative lens to all things, from project management to our treatment of our teammates, clients, and the planet.
We are over 150 people strong and have been in business since 2001. Every day, we give thanks for the trust of our world-class clients. Our deliverables span from analysis and curriculum mapping to the creation of blended training products, including live and virtual classroom training, custom-developed eLearning, and innovative use of emerging technologies.