We don't mean to cast any shade on virtual hangouts—we love them ourselves! They've served as a vital source of connection as we've all coped with the emotional toll of being apart from friends, family, and co-workers. 
But as many of us quickly discovered, rituals, celebrations, and collaboration sessions work differently online. And though they can work just as well (if not better!) than their live counterparts, like any event, it takes more than a meeting link to truly bring people together. 
We've all been through a few virtual hangout hiccups. But there's no question that virtual work works. And so does hybrid work, for those folks who need both face time and flexibility. 
Despite employees' overwhelming requests for remote and hybrid work, studies show that leaders have some work to do in responding to our employees' needs for remote and hybrid work. 
Some of us feel nostalgic for the morning banter at the coffee station. Some of us can't imagine brainstorming sessions without the invigorating smell of dry-erase markers. Some of us simply enjoy the opportunity to see our colleagues in real time. 
But what's holding many leaders back from remote and hybrid work goes a lot deeper: It can be hard to imagine how our organizational culture can survive when we're not sharing physical space full time.
We commend your caution—and we're happy to share that your team's communication, collaboration, and camaraderie can thrive remotely. But setting your people up for success absolutely requires careful planning and a close look at how they share space together. 
Our 10+ years as a fully remote organization has taught us that a remote culture goes much deeper than just the right tools and platforms. We've learned to build space for every kind of connection into our floor plan. And this isn't its first (or last) incarnation: Our floor plan is constantly evolving with us. In this time of reimagining and rebuilding, we hope it serves as a thought starter for what virtual (or hybrid) organizational life might look like.
Welcome to our virtual house! We can't wait to show you around.
Play and Purpose: Our Virtual Gathering Spaces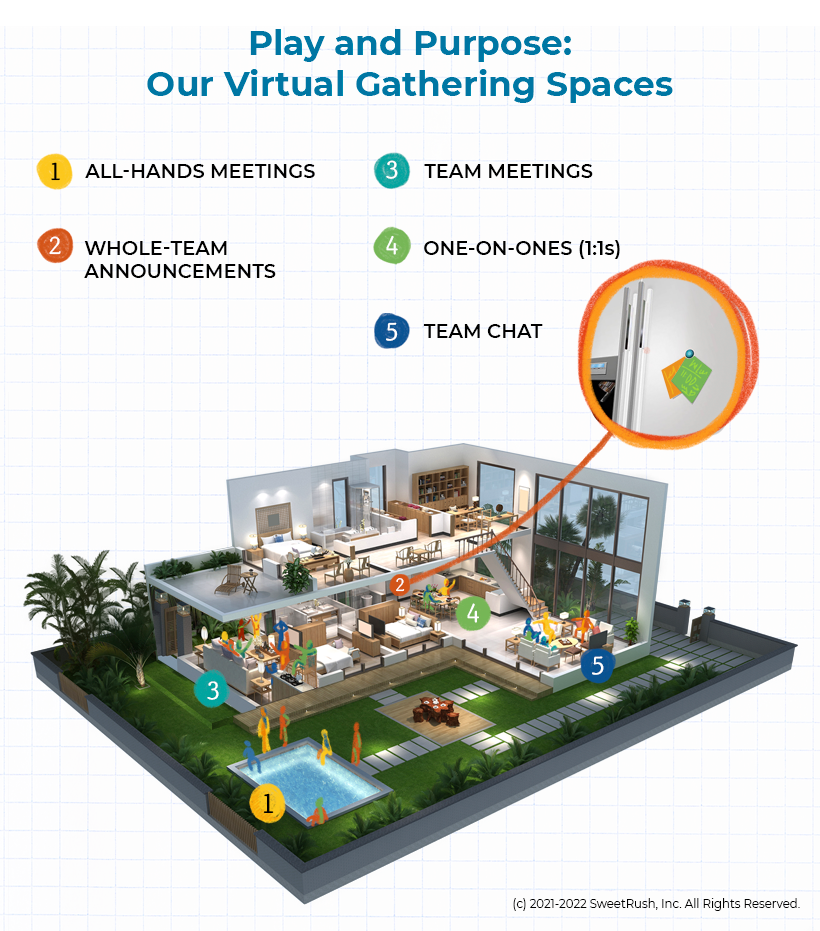 Our monthly ritual opens and closes with an on-camera wave (a dazzling sight with 130+ guests!). Thanks to our graphic designers, slides are colorful and meaningful—serving as cues rather than lecture notes. Topics focus on expanding our shared mission and deepening our experience together as humans and practitioners. Recent topics include: favorite moments from our 20 years together, a deep dive into diversity and inclusion, our new carbon-neutral reforestation initiative, and love at work. The team keeps up an active chat throughout the experience, cheering on presenters and sharing reactions.
A personal note from Cofounder Arturo Schwartzberg a few days in advance builds anticipation for this internal party.
Our tool of choice: Zoom

This space is the refrigerator door where we scribble our welcome messages to new team members, birthday wishes, and congratulations about new life adventures. We also post polls, requests for brainstorming partners, and book and movie recommendations that connect to our shared mission.
Our tool of choice: Google Currents

In the marketing team, for example, the weekly gathering is our answer to the Monday cube chat. Team members join and share the projects and passions they pursued over the weekend. (Lots of Netflix recommendations change hands here!) Birthdays and other special occasions feature a group game—from Among Us to personalized team trivia. This is also the place where we share our learning from conferences, webinars, and life.
Our tool of choice: Zoom

Weekly or biweekly touchpoints give team members face time with their supervisors to discuss ideas, projects, workloads, and life. These 1:1s provide valuable opportunities for team members who aren't as vocal in the larger group meeting to get to know their supervisor. They also help to breathe life and goodwill into electronic feedback and conversations.
Our tools of choice: Zoom and Google Meet

Our ever-scrolling message board helps us wish each other a good workday or weekend, ask questions, and share stories, news, photos, jokes—and lots of animated GIFs. With team members in multiple time zones, chats help us catch up with one another on our own schedules.
Our tool of choice: Skype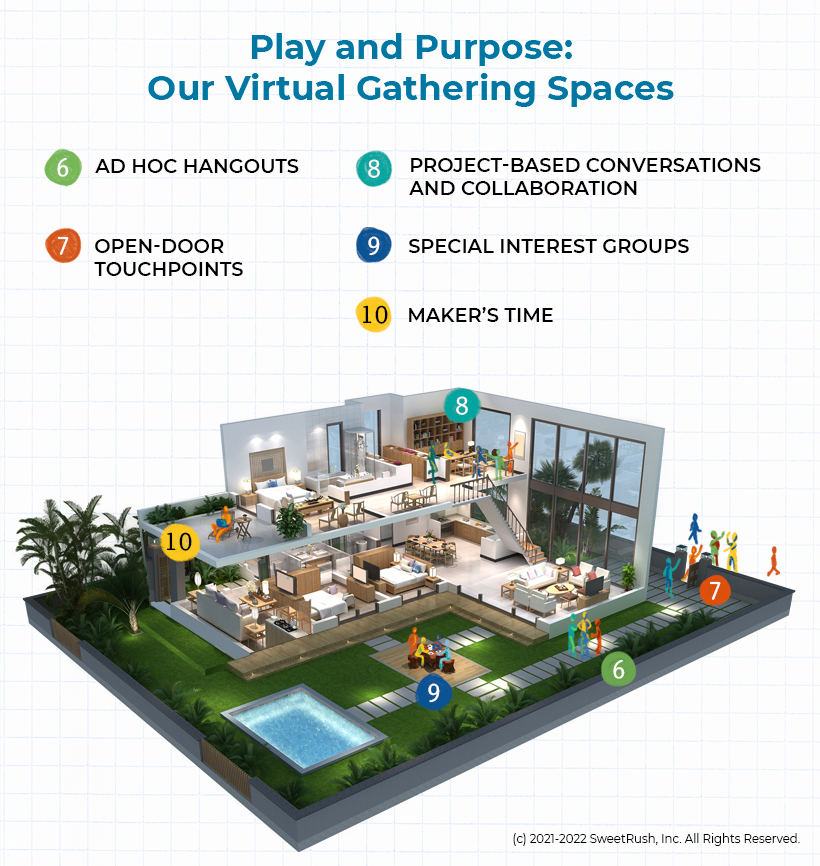 Anyone who's ever IMed at work can appreciate our version of stopping by a friend's cube. Whether it's an impromptu small-group chat about a project or a fun link, messaging is the perfect tool for a quick exchange—or launchpad for a live call. 
Our tool of choice: Skype

Our leaders are busy—but they set aside blocks of time in their schedules to meet with any individual or team. Cofounder Andrei Hedstrom's calendar entry describes his Friday afternoon office hours as an opportunity to "connect on current initiatives, ideas, passions, or just to build a better personal connection." It's not just for looks—when new members join the team, he encourages them to reach out. 
Our tool of choice: Google Calendar

Most of us have tried the review feature in documents—usually for line edits and corrections. We use it that way, too, but we also use comments for detailed project conversations (sometimes in real time). And because all of our content lives online with us, it's easy to link to other documents in our library or loop in others who can share information.
Our tools of choice: Google Workspace, Jira, Mural, and Confluence

Our eclectic team has all kinds of interests—some unique, some shared. Those with a critical mass—Tabata, yoga, meditation, writing, and a women's discussion group—hold space for regular practice or discussion. With members spanning all departments and levels of the organization, these groups spark connections and friendships among team members who might not otherwise have had the opportunity. 
Our tool of choice: Zoom

There are times to gather—and there are other times when we need the space to sketch out ideas, research new ones, read, learn, and just noodle. And whether it's due to our roles, temperaments, or both, some of us need more maker's time than others. Whether we pace out wicked problems or sketch out potential solutions, we need time away from others to innovate and ideate. We honor our teammates' deep work time—and encourage them to block it off on their calendars. 
Our tools of choice: notepads, walks, washing dishes, etc. 
Shared spaces are just the beginning—our real culture comes to life in the ways we show up for each other every day. And before we invite everyone to our epic virtual and hybrid mixers, we need to understand why we're here together and what matters to us.
We call these whys and whats our core values, and they speak to fundamental life needs: For example, our core values include economic responsibility, social justice, and ecological sustainability. These core values guide how we engage one another, how we do business, which projects we take on, and even whom we partner with. They're the foundation of our thriving remote culture—and we've truly built our house upon them. 
Want more insider tips on how to build a thriving organizational culture? Before you break ground, check out our collection of blueprints from our two decades together as a human-centered organization—and decade-plus as a fully remote team. Our eBook, It's All About Your People! Embracing Human-Centered Business, Workplace Culture, and Learning Design, will help you lay the foundations of a fully remote or hybrid organization that supports happier, healthier, more resilient humans. 
Need some quick tips? Check out our curated resources on remote team building and leadership.