One of the most popular questions coming from our clients in relation to Storyline-authored content is about offline viewing options. The reasons for such requirements vary.
For example, one of our clients is deploying a healthcare-related series of courses in Africa, where at least a portion of the target audience may not have access to a reliable Internet connection.
Another example is a client who wanted to show off our work on iPad®s during a tradeshow but wanted to plan for offline delivery in case Wi-Fi was not provided during the event.
While offline viewing may seem like a simple request, it can become quite complicated given the variety of options and requirements related to the authoring environments, target platforms and devices, and the necessity to take the Learning Management System (LMS) into account.
The purpose of this article is to explain the options that exist within Articulate Storyline, and hopefully make it easier to produce and publish the content available for offline viewing on stationary and mobile devices.
What does "Offline" mean?
As trivial as it seems, the term offline is as prone to misinterpretation as any other concept, so please allow me to define it first.
Offline viewing means the ability to open and run a course without being concurrently connected to the Internet. The course should, therefore, reside on a local drive of the device.
For Storyline, the device is an iPad or a PC (running Microsoft Windows®) or a Mac®.
Offline and LMS
An important disclaimer: Offline and LMS do not mix.
An LMS is typically a remotely-hosted system that requires an Internet connection to launch and track the content. The advances of the Tin Can API carry promises of being able to host and run content offline, but at the moment this does not work with Storyline, and, for the most part, this remains a theoretical proposition.
We sincerely hope that this is about to change, but for the purposes of this article, it is crucial to understand that if you want to make Storyline courses available offline, these instances of the courses will not be tracked by your LMS.
This means that if you are offering courses through an LMS, several instances of each course may need to be prepared: one for the LMS, one for offline viewing on iPad, and one for offline viewing on PC.
Offline for iPad
In order to provide offline capabilities for a Storyline course, it must be published using the settings shown in the screenshot below.

Articulate Mobile Player (AMP) is a free iPad app that will run your course. When the user first accesses the course, it will either launch AMP automatically (if AMP is already installed), or will route the user to the App Store, for a free, one-time download and installation of AMP. Once this is done, the course will be available from the AMP library.
Another important disclaimer: initial Internet connectivity is required.
The course must first be accessed via an online link, which means that your device must be connected. You also must retain connectivity in order to download AMP.
Once the app is installed, and the course is open, the user will have to use the Available Offline toggle switch to download the course.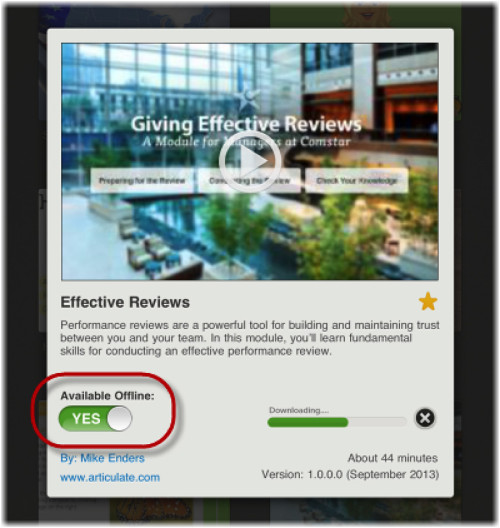 Clearly, the course download also requires persistent Internet connectivity, but once this is done, the course becomes permanently available from the AMP library and will not require an Internet connection.
Differences between AMP and Adobe Flash®/HTML5
While preparing the course for AMP, you must keep in mind that some of the course features will become unavailable. The complete list of differences can be accessed here:
Here are a few key differences that I would like to call out:
No resources. Your Resource tab will disappear. You can still provide links to online documents and sites as part of the content, but they will not work without Internet connectivity for obvious reasons. Files that were embedded into the course as resources will not be accessible from AMP.
No hanging menus. If you have Menu, Glossary, or Notes as part in the top navigation, they will automatically move, forming the left-hand side navigation bar.
Default player. Player customizations, such as background color, color schemes, or alternative fonts will be reverted to default.
Flash and JavaScript®. If you have embedded Flash (SWF) animations or JavaScript code snippets, those will not work. Even with all the limitations presented by AMP, the performance of the course will be better than its HTML5 counterpart, and assuming that the described deficiencies are not showstoppers for your purposes, I do recommend using the Articulate Mobile Player on- or offline over the HTML5 distribution.
AMP for Android™. At the moment, AMP is only available for iPad, but starting with the release of Storyline 2 (anticipated in Q4 of 2014) the Articulate Mobile Player is rumored to become available on Android tablets as well.
Offline for PC
Local PC distribution for Articulate courses is much simpler, and unlike the iPad example, it is indeed possible to load and run the courses with no dependency on an Internet connection. Since each published course is a collection of files, the files can be simply transferred to a PC or a Mac machine on a CD, flash drive, or any other removable media.
For the most part, your course should be fine when accessed locally, but certain details of its behavior may be affected by your PC and browser security settings. According to the Articulate Documentation:
If you view published Articulate Storyline content on your local hard drive or send it to someone else to view on their local hard drive, you'll encounter security restrictions from the computer, web browser, Flash Player, and network that'll cause various features of your content to fail.
In my experience, the courses will behave adequately as long as you stay away from Microsoft Internet Explorer®, and use latest versions of Google Chrome™, Mozilla Firefox®, or Safari® instead. You may also need to allow access to the local files for the embedded resources to work properly. Please talk to your technical support team to allow the access, depending on your PC and browser configuration.
Publish for CD
Also, Storyline provides a publishing option specifically meant for offline distribution. This method is also prone to local security restrictions, but according to Articulate, it has the greatest chance for a smooth offline experience.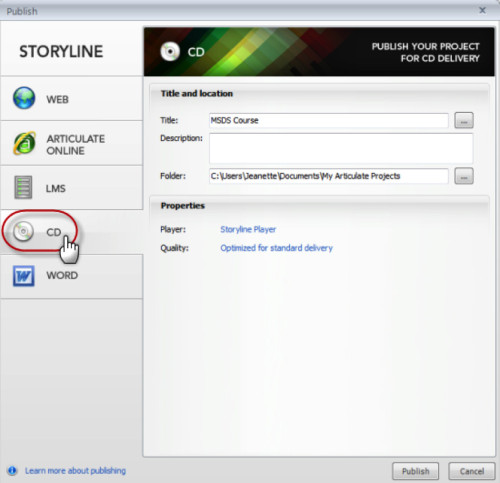 Files published for CD can then be distributed to your users and accessed from local or removable drives.
References
To learn more on this topic, please check out the following reference materials:
Photo credit: Eric Dombach via Flick.com Creative Commons.