Aliso Viejo, Calif.,  November 9, 2023 — Fundamental Skills for Nurse Managers (FSNM), part of the American Association of Critical-Care Nurses's (AACN) suite of online eLearning programs, was honored for the third consecutive year at the Brandon Hall Group Human Capital Management Excellence Awards.
The eLearning course focuses on the technical and interpersonal competencies nurses need to be successful managers. To date, FSNM has been recognized with seven Brandon Hall Gold awards for its unique and comprehensive approach to leadership and skill development. 
AACN worked with SweetRush, a leading provider of custom learning solutions, to develop the course and update its content to reflect current issues facing nurse leaders. This year alone, SweetRush received 40 Brandon Hall Group awards for its work with nine organizational partners, including AACN's Gold-level awards for FSNM as Best Program for Upskilling Employees and Best Advance in Creating an Extended Enterprise Learning Program.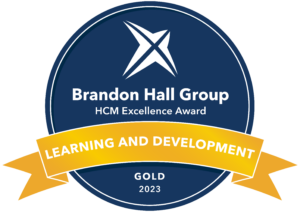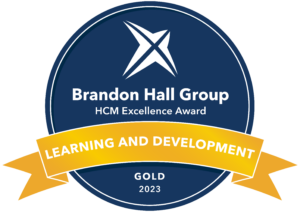 The course provides learners with 16 hours of relevant, high-value content, delivered via concise eLearning modules, authentic branching scenarios, self-assessments and moment-of-need job aids. With relatable characters, realistic scenarios and storytelling, the robust leadership development experience provides participants with tools they can apply immediately in their daily work.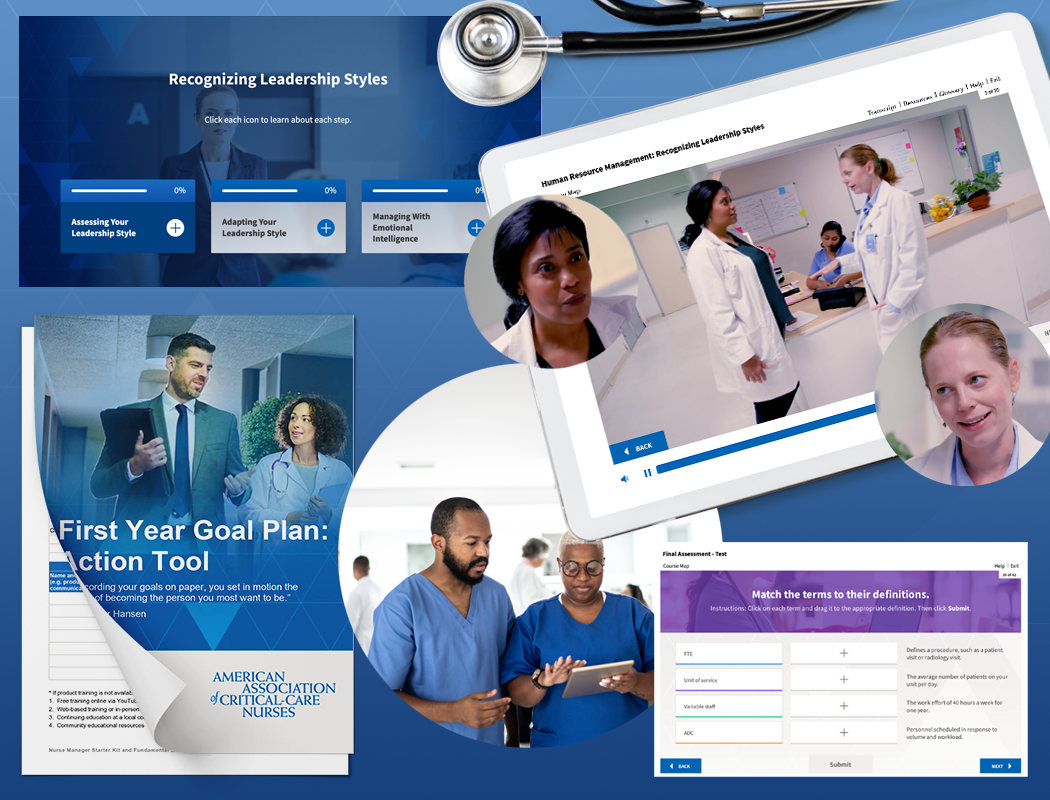 "Nurse managers play a key role in shaping the work environment, ensuring patient outcomes, and attending to the welfare of the staff," said Herb Williams-Dalgart, AACN learning excellence director. "Their leadership is vital in guiding teams with varying experience levels, encompassing both seasoned nurses and novices, along with non-licensed support staff. It is essential for leaders to demonstrate essential skills, such as managing human and financial resources, as well as ensuring the safety and well-being of both patients and staff, as they step into management positions."
SweetRush Director of Client Solutions Annie Hodson said, "We leverage a combination of instructional design, creativity and engineering to develop custom solutions for our client-partners, such as AACN. We're inspired by their dedication to supporting nurses, which aligns perfectly with our mission."
FSNM empowers new nurse managers with the following critical skills: 
Getting Started

:

Understanding the behaviors and practices of their new position, identifying supportive resources and strategies for the first few days on the job, and using cultural competencies to lead a diverse team.

Human Resources

:

Developing the management skills that will help engage and retain staff, support team members' professional development and performance, and clarify scope of practice. 

Financial Management

:

Collaborating with the finance department to understand the unit budget, and developing a staffing methodology that honors both the operational budget and patient needs.

Quality and Safety

:

Creating a culture of safety, understanding regulations and accreditation, and enhancing the patient experience and quality of service. 

Leadership

:

Managing change, advocating for staff, ensuring compliance and ethical practice, collaborating with physicians and other practitioners, and developing contingency plans.
Learners report a significant increase in knowledge and skills in all five areas, as well as an increase in their levels of confidence after applying the information and practices to their work. In the words of one learner, "Having this information as a new manager is crucial in developing relationships, teams, understanding the staff and work-life balance."
FSNM is part of AACN's extensive library of eLearning courses, delivering standard-setting education and expertise that nurses and healthcare organizations can trust.
Organizations and individuals can learn more about the course at www.aacn.org/coursefsnm.
About the American Association of Critical-Care Nurses
For more than 50 years, the American Association of Critical-Care Nurses (AACN) has been dedicated to acute and critical care nursing excellence. The organization's vision is to create a healthcare system driven by the needs of patients and their families in which acute and critical care nurses make their optimal contribution. AACN is the world's largest specialty nursing organization, with about 130,000 members and nearly 200 chapters in the United States. Learn more at www.aacn.org.  
About SweetRush
SweetRush is trusted by many of the world's most successful companies to help them improve the performance of their employees and extended enterprise. SweetRush is known for exceptionally creative and effective solutions that combine the best of learning experience design with highly engaging delivery. SweetRush services include custom L&D solution design and development, high-performing staff-augmentation talent staffing, certification development, cultural alignment, and innovative learning technologies such as VR, AR and AI. SweetRush's work has earned a long list of awards and accolades in collaboration with its world-class clients. Discover more at www.sweetrush.com.