What Classics Like The Giving Tree and Good Night Moon Tell Us About Work
Clean up your mess.
Share. 
Play fair. 
Be kind.
Treat others the way you want to be treated (also known as "The Golden Rule").
Tell the truth. 
Listen. 
Be yourself.
Use your words. 
These universal life lessons found in children's books are equally useful (and woefully needed) for adults in the workplace. 
That's why there's a famous saying (and book): "All I really need to know I learned in kindergarten." This saying reminds adults of seemingly obvious, foundational lessons from our formative years. These basic lessons show us that the simplest aspects of life can get lost in the complexity of our daily routines.
Can you imagine how different the world would be if adults abided by these principles in life and in work? It would be amazing, wouldn't it?
And what better way to learn these lessons than from classic children's books?
In this issue of Workplace Matters, I'll explore lessons learned from children's books that we can apply to the workplace.
And make sure you sign up for our Workplace Matters newsletter to get next month's installment. 

Translating Childhood Lessons into the Workplace
Be Mindful of Everyone that Makes Up Your Team, Organization, (and Ecosystem)
#1: Good Night Moon 
By: Margaret Wise Brown, Clement Hurd (illustrator)
Themes: 
Routine

Rituals

Mindfulness
Clocking in at only 130 words, this iconic lullaby is one of the best-selling children's books of all time. This rhythmic and charming tale has lulled countless children to sleep since its publication back in 1947. 
Before the main character—the bunny—can go to sleep, he has to say goodnight to everyone and everything in his ecosystem. From "mush" to "nobody," the young, sleepy bunny acknowledges everyone and everything in his eyesight and beyond. This ritual even extends to an animal the next planet over ("the cow jumping over the moon").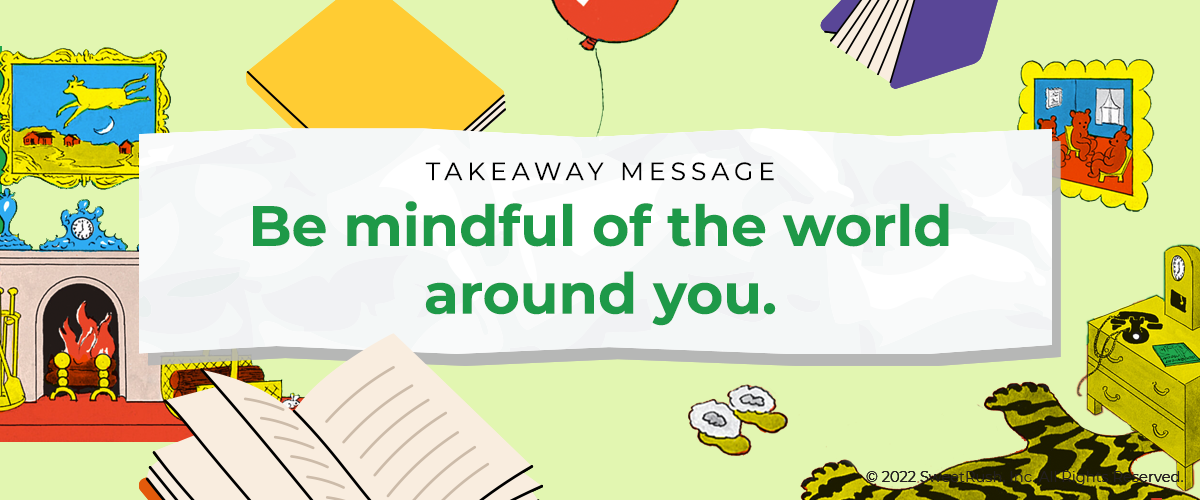 Mindful adults share the natural gift of curiosity, which is instinctive to children. They are mindful of how they show up in the universe and at the same time, they are aware that everyone else around them is a complex human being (just like them). They know that we all just want to feel accepted and like we matter. Lucky for us all, mindfulness and similar introspective concepts are gaining traction in the workplace these days.
Being mindful in the workplace also means being aware of your team and everyone you interact with in the organization. That includes acknowledging your teammates so that you can co-create a mindful, psychologically safe environment. In the book, Bunny knows that even the cow jumping over the moon is part of his ecosystem (in some way). This mindset helps us look at the bigger picture and the ecosystem that supports us (whether that's team, family, friends, local or global community, etc.). 
It's an awareness that we're all connected. And we are all creating a collective "vibe" together (which translates into environments such as friendships, families, and even corporate culture).
It Could Always Be Worse, Dr. Seuss Reminds Us
#2: Did I Ever Tell You How Lucky You Are? 
By: Dr. Seuss
Themes
Self-reflection

Micromanagement

The Great Remorse

Perspective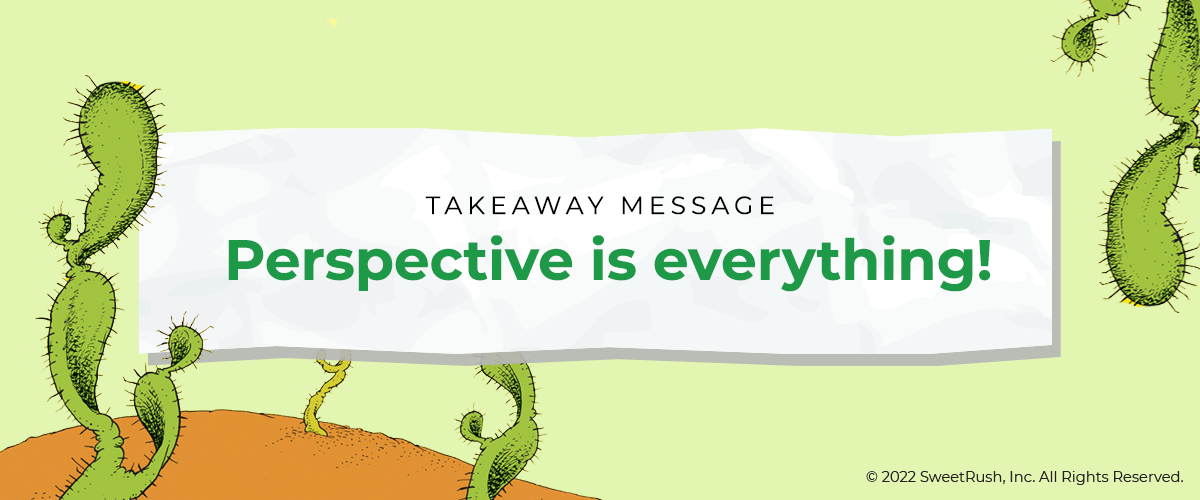 This book is a series of descriptive poems, told to an unnamed listener by a wise old man, which describes people in situations that are surely worse than your own. 
A particular poem/story from this book is The Bee Watcher. In this tale, the bee watcher watches the bees to make them work harder. When his watching isn't successful, another watcher watches the watcher. And so on, until there is a line of people watching the watcher who watches the bee. 
A tale full of metaphors on bureaucracy and perspective (with a heaping scoop of micromanagement), it shows young readers that a situation could always be worse (or more ridiculous). As millions of job seekers changed jobs over the last few years to find better workplaces, some found that the grass was not greener with new jobs. What started as The Great Resignation morphed into The Great Reshuffle and now The Great Remorse as some are finding themselves less happy in their new jobs than their old jobs.
This classic scene of watching the bee watcher-watcher who watches the bee watcher is also depicted in a piece of fine art, which SweetRush's CEO and Cofounder, Andrei Hedstrom, proudly displays in his office. When we last chatted and I asked Andrei what drew him to this piece, he said, "It's a great depiction of the observer, which is a practice in traditions such as Buddhism. Watching your own mind in this way gives you insights you wouldn't have if you were just running around. You observe the things you're attached to and study your reactions. To me, it's at the root of paying attention and becoming aware of your own mind."
And, for adults, we know that our mind is everything. 
Give Too Much and You'll End Up a Sad Stump (aka When People-Pleasing Goes Bad)
#3: The Giving Tree
By: Shel Silverstein
Themes
Empathy

Selflessness

Boundaries

Generosity

Mental Health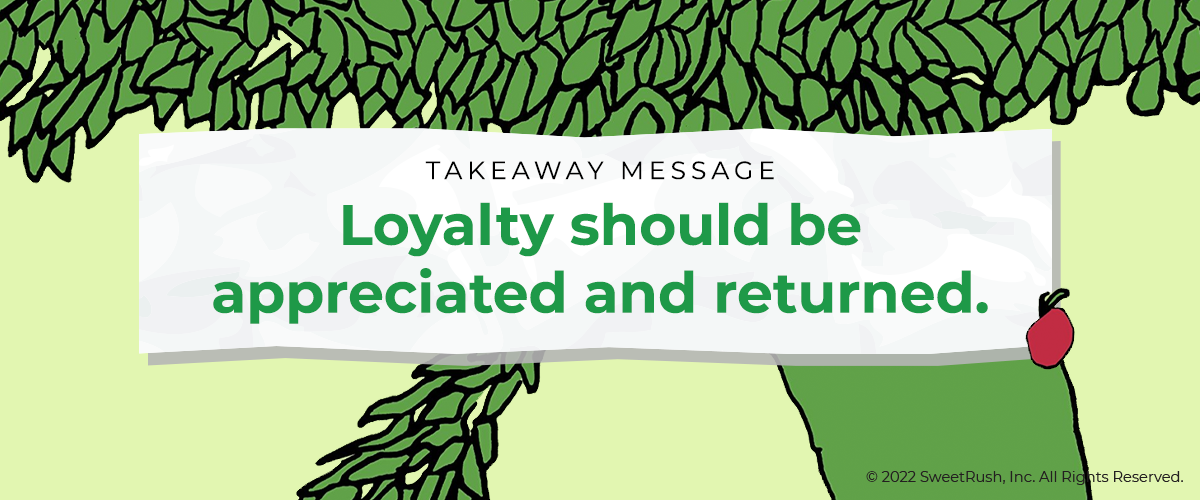 While there are mixed feelings about the meaning behind The Giving Tree, the moral of the story for me is while the tree is loving and well-intentioned, it didn't have healthy boundaries with the boy. So, the boy took advantage.
This tale is referenced as a metaphor for everything from parenthood to our relationships to the environment (although I would encourage any parents to avoid modeling themselves after a boundary-less stump). 
When it comes to the workplace, this kind of one-sided devotion and martyrdom is simply not necessary or healthy! Employees are now advocating for their individual needs, rather than accepting the status quo and holding on until retirement. 
When I chatted with SweetRush Human Resource Lead, Maricruz Vicente, she told me, "An employee wants to be treated like a person, not a resource. The new generation is looking to work for a company where they can be themselves and be treated equally. And the new employee experience is about valuing mental health and seeing individuals as human beings aside from their productivity."
When employees are not getting those needs met, they are moving on. Currently, the median for American workers staying at one job is 4.1 years, according to a recent study.
Everyone Deserves to Pursue Their Passion 
#4: The Day the Crayons Quit
By: Drew Daywalt, Oliver Jeffers (Illustrator)
Themes
The Great Resignation (also known as "The Great Breakup")

Employee satisfaction

Toxic culture

Teamwork
EVERYONE HAS THEIR LIMITS IMAGE
Duncan, the child who owns the crayons, is the leader in this situation. He has to solve the problems of his team (of crayons). All the crayons in Duncan's box go on strike, citing all kinds of hilarious grievances. The crayons are not feeling valued, challenged, or heard, leading to frustration and burnout. At the end, Duncan comes up with a solution that takes into consideration all of the crayons, making a win-win. 
Way to go, Duncan.
And today, a study of 52,000 workers across 44 countries revealed that one-fifth plan to leave their jobs in the next year. Duncan models the kind of inclusion and empathic listening leaders require to adapt to employee needs. 
When employees feel heard and valued, businesses thrive. But in a recent study, 86% of employees said that not everyone in their organization is heard equally or treated fairly.
Slow Down and Be Present to Appreciate Life's Greatest (and Simplest) Joys
#5: Waiting is Not Easy
By: Mo Willems

Themes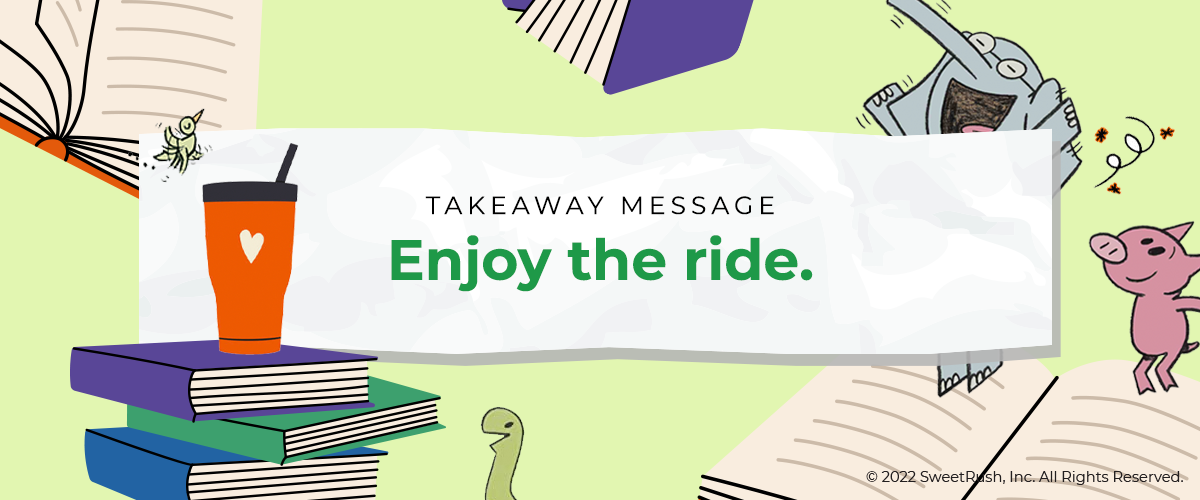 This cute story of best friends, Gerald and Piggie (an elephant and a pig), comes from #1 New York Times Bestselling author and illustrator, Mo Willems. When Piggie has a surprise, Gerald cannot wait to learn what it may be. He tries to guess and get it out of Piggie, but she's not budging. Spoiler alert: At the end of the story, we learn that the surprise is the Milky Way!
This story illustrates that sometimes, we can be so impatient that we aren't looking at the big picture. We can all be Gerald at times. Piggie teaches us to zoom out and allow for appreciation of where we are. In other words, she teaches us to be present, grateful, and open to the natural wonder all around us.
Fun Fact: Mo Willems started an amazing YouTube series, called Lunch Doodles, which came out in March 2020. In the series, he taught kids how to illustrate his characters, helping both kids and, in turn, clueless adults, stuck at home together (as shown by my son's drawing below).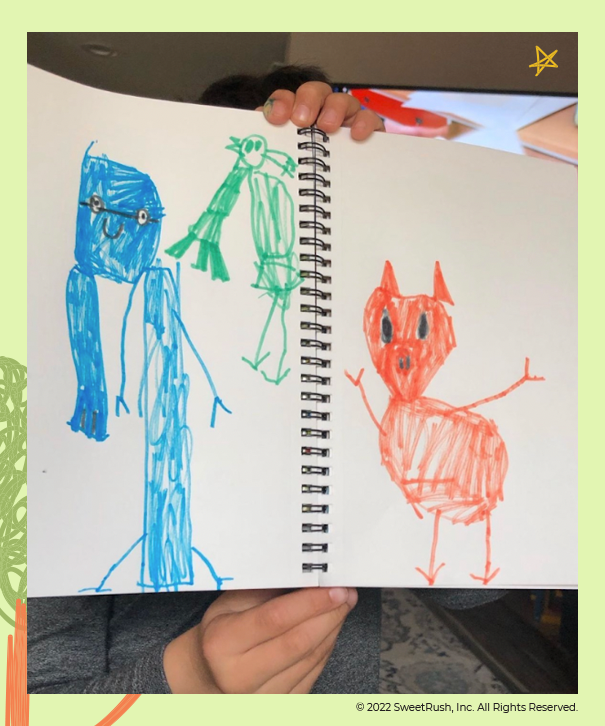 Don't Run Over Others to Get to Where You are Going (aka Teamwork Makes the Dream Work)
#6: Little Blue Truck
By: Alice Schertle, Jill McElmurry (Illustrator)
Themes
Teamwork

Leadership

Kindness

Leadership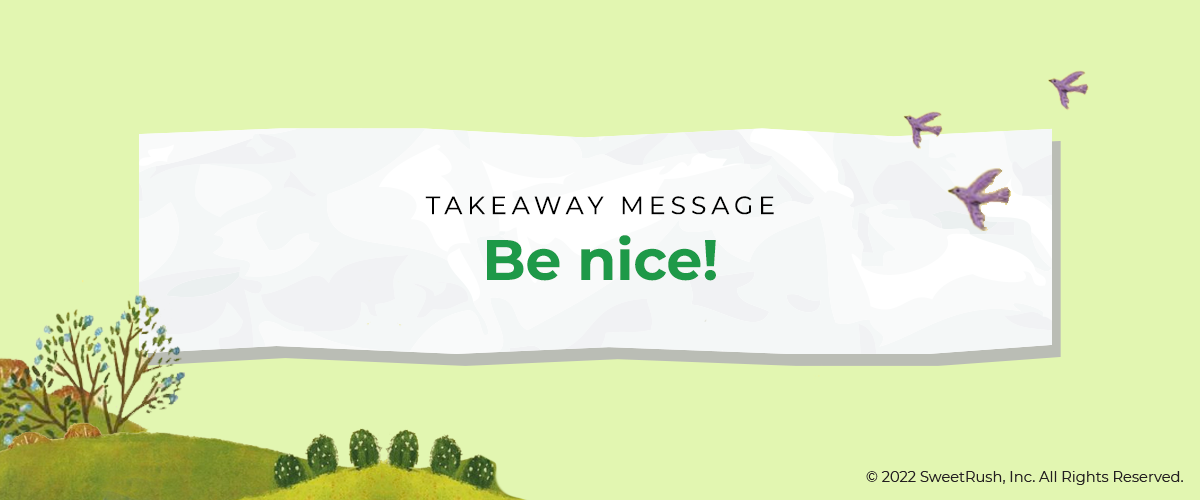 In this tale, a friendly blue truck happily drives along the country road, greeting all his farm animal friends along the way. When an inconsiderate, impatient big dump truck races past, getting them both stuck, the animals band together to save the day (thanks to Blue).
Since the little blue truck is kind to all the farm animals, they are more than happy to save him in his time of need. Unlike the arrogant, selfish dump truck, Blue naturally unites the animals through conscious leadership (which is all the rage these days in leadership development). As the editor of a book on conscious leadership and a participant in the journey myself, I highly recommend this approach as a tool to improve your life personally and professionally. And who couldn't use more tools to improve their lives?!
The outcome in this tale is a win-win for both the Blue and the dump truck. Blue makes leadership look easy because he is naturally authentic, vulnerable, and empathetic (traits that employers are looking for in leaders).
The Power of Learning Can
Open the Door to New Worlds and Opportunities
#7: The Phantom Tollbooth
By: Norton Juster, Jules Feiffer (Illustrator)

Themes
Learning

Openness

Growth Mindset

Curiosity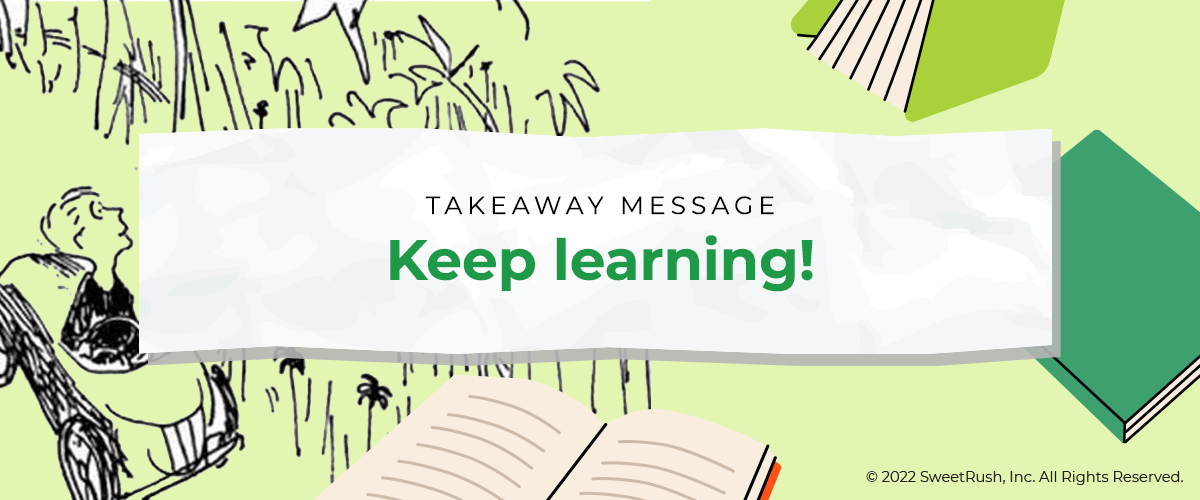 A lifelong favorite of several SweetRushians (and millions of people around the globe), this tale stands the test of time more than 60 years after it was published. 
The main character, Milo, starts off bored in the book and can't see the point in learning until he embarks on a hilarious adventure in which he reflects on different perspectives of reality. He travels to lands such as Dictionopolis and Digitopolis, where he learns about language and math and other topics.
This tale emphasizes the importance of a growth mindset (versus a fixed mindset). A growth mindset is about being open, curious, and willing to learn. This perspective helps employees combat challenges in the workplace such as burnout and a disconnected workforce. 
Let's face it: adult life can get monotonous. One thing we have control over is our perspective. It's also a good reminder to tap into our sense of childlike wonder and lifelong learning. This interest in learning can also propel us forward in our careers. As we collect degrees, certifications, training, and experiences, we each build our own phantom tollbooths that transport us throughout the adventures of our careers (and lives).
Your Hunger May Be Feeding Your Transformation
#8: The Very Hungry Caterpillar
By: Eric Carle
Themes
Growth

Personal development

Career journey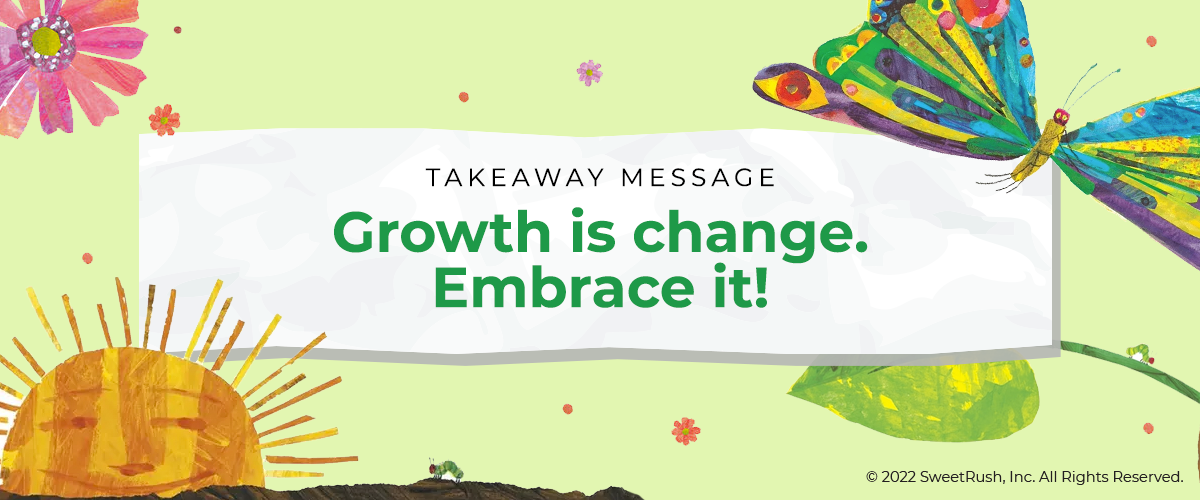 In this colorful and delicious tale, an insatiable caterpillar nibbles his way through an assortment of foods before finally transforming into a beautiful butterfly. All the food that the caterpillar consumes ultimately nourishes his evolution.
Just like the caterpillar's trajectory, your career journey will be very different than you originally thought. YOU will be very different from the beginning to the middle to the end. Everything you experience is ultimately fueling your journey and evolution in life. And that's the beauty of the journey.
Personal development is a metamorphosis. Listen to your instincts and be open to change, growth, and transformation.  
Life Lessons Are Everywhere
This article about children's books with lessons that adults can apply in the workplace is by no means an exhaustive list; I'm sure there is an endless number of children's books that we can comb for insight into the complexities of adulthood (even in finances, according to this NPR podcast). 
In fact, I asked my LinkedIn network for their insights on impactful children's books with lessons for the workplace, and they added the following books: Winne the Pooh, Five Dolls In a House, The Hobbit, Where the Wild Things Are, The Story of Ferdinand, and Miss Spider's Tea Party.
What books do YOU think are missing from this list? 
Please add your selections in the comments of our LinkedIn post. I would love to hear your input.
If you liked this article, make sure you sign up for this series and get notified when a new article is published. 

Whether in songs, television, or movies, there are lessons all around us that we can apply in life, at work, and everywhere in between.
I'll be back next month with another topic. Stay tuned for the next installment of the Workplace Matters series!

Your workplace BFF