Or: Why No Headset = No Problem
L&D leaders and innovators are more aware than ever of the benefits of immersive learning: Who wouldn't want to upskill learners faster, better, and for the long term? 
But even the most forward-thinking L&D folks can face challenges to implementing their immersive learning strategy. Here are a few we heard from our client-partners: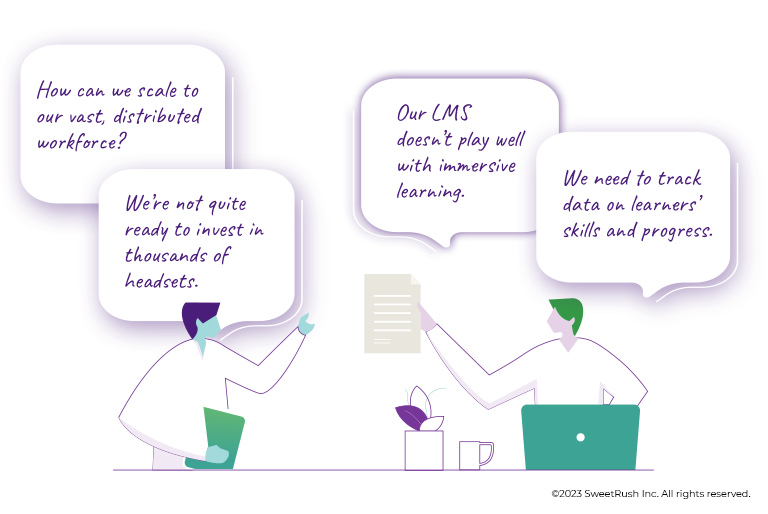 Friends, we're happy to introduce a learning solution that clears all of these hurdles: WebXR. 
If you're anything like our client-partners, you probably have a million questions! Let's start with 18 of the most frequently asked questions they ask us about WebXR. (Prefer to stump us straightaway? Reach out! We love a challenge.) 
1. What is WebXR? And what's the difference between WebXR and native VR?
Let's start with the "XR" part of WebXR, which is short for "extended reality." XR is an umbrella term that covers virtual reality (VR), augmented reality (AR), and mixed reality (MR) experiences. See the image below for a tutorial on the five types of reality.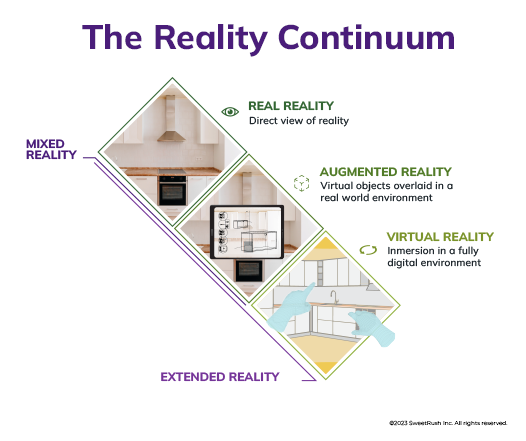 Now let's talk about the "web" part of WebXR—as you may have guessed, WebXR technology gives us the ability to create VR, AR, or MR experiences that can be accessed via the web, no special equipment required.
Though WebXR technology can be used to create any type of digital environment, we'll focus our Q&A on VR learning experiences created in this versatile immersive technology. 
So, what's the difference between Native VR and WebXR?
Native VR applications offer a fully immersive experience delivered via an application that

must be downloaded and installed on a headset

. 

With WebXR, learners access immersive content

either

via a VR headset

or

via a laptop or desktop computer. A headset offers full immersion, just as native VR application would; a computer offers an engaging 3D experience much like a first-person game.
This flexibility is the main reason learning leaders are leveraging WebXR—and why we've affectionately nicknamed WebXR "the gateway to immersive learning" (See Questions 3 and 4 for more details).  
2. What types of experiences are best for learners new to immersive technology?
Immersive technology allows us to create a safe, authentic 3D practice environment that lends itself to a wide range of use cases, from hands-on to heartfelt. That covers everything from hazardous waste cleanup and machinery maintenance to difficult conversations. 
Once upon a time, technical training was the dominant use case for VR. Imagine a native VR application featuring a digital twin of a manufacturing environment where learners could get the hang of specialized equipment, machinery, and procedures—all without harming people or property. 
That's still a great use case! The safe, immersive practice environment speeds learners' time to proficiency, reduces errors, and enhances retention.
But as workplaces and job roles continue to evolve, learning innovators are embracing VR solutions for a wider spectrum of use cases, including nuanced interpersonal skills like empathy and de-escalation. 
In the most immersive VR learning experiences, features such as voice recognition, movement tracking, and eye tracking can help learners review and learn from missteps. But all levels of immersion can help learners walk (or work) a mile in someone else's shoes.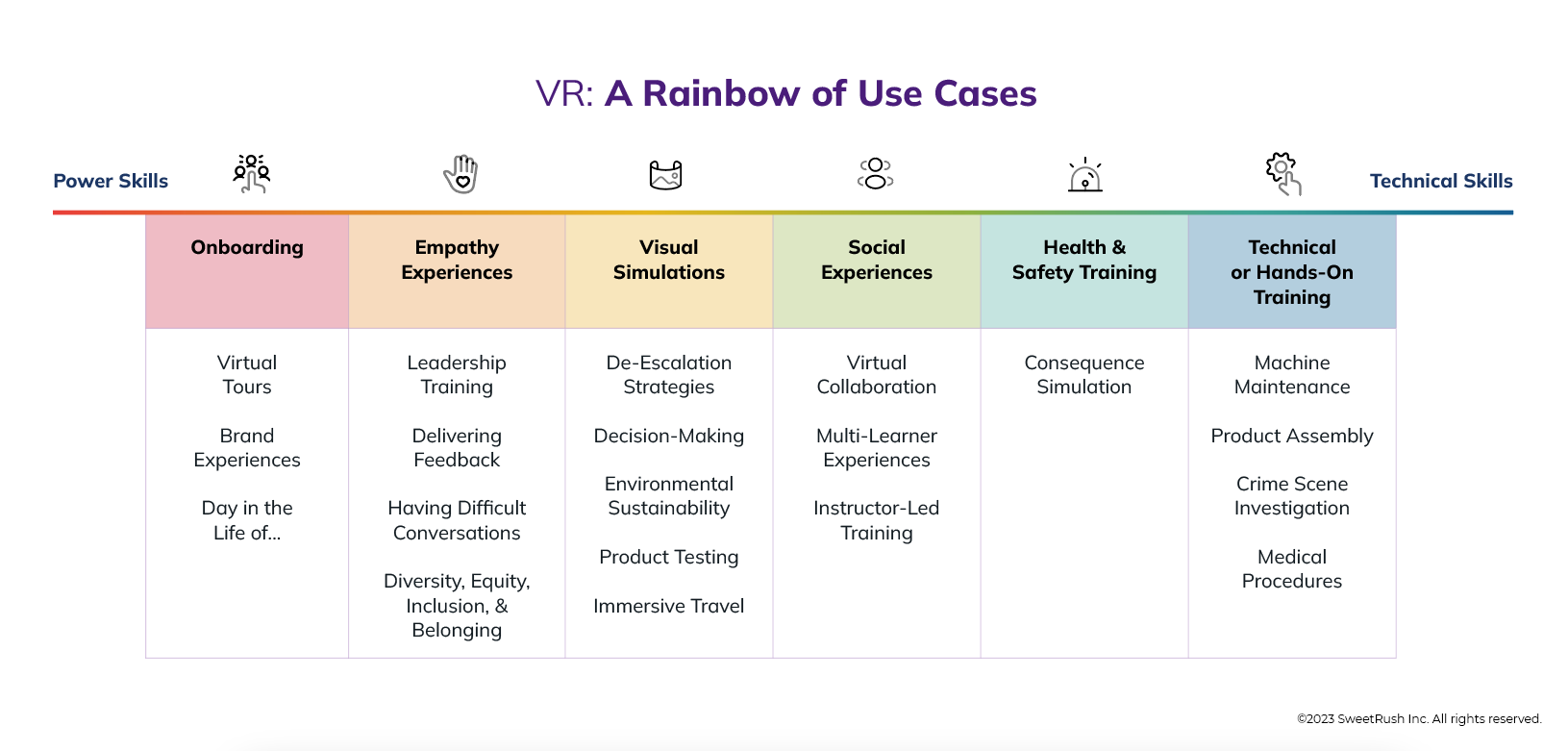 3. My organization isn't quite ready to invest in headsets for our distributed learner audience. Can I still use WebXR?
Absolutely! Many of our client-partners face challenges with headset logistics but still want to leverage immersive 360° content for a more engaging, authentic learning experience. We launched WebXR to help them overcome that challenge.
Unlike native VR applications, which need to be downloaded and installed on a headset, WebXR learning experiences live on the web (See Question 1). Learners can access these experiences either through a headset or their laptop or desktop computers. (That's how we've developed our reputation for saying, "No headset? No problem!")
We recently worked with a global retailer who shared this concern: We partnered with them on a WebXR solution that they distribute to their learners via tablets and mobile phones. The experience is much like an advanced web simulation: Learners click through to explore the virtual space, engage with activities, and receive feedback as they upskill and apply their newfound knowledge. 
4. Which devices can be used with WebXR content?
Learners have the choice of accessing WebXR experiences via a VR headset or a laptop or desktop computer. We call this choice device optionality, and it's one of the reasons WebXR works so well for organizations looking to gradually ramp up their immersive learning strategy…without investing in thousands of VR headsets all at once.
5. How do the hand controls work on the desktop? 
Learners use a mouse, trackpad, or keyboard to move around the experience, just as they would any website or application. The desktop experience offers a level of immersion much like that of a first-person game or an advanced web simulation (See Question 2.) 
6. Can learners access WebXR experiences from my LMS? Can it track data?
Yes, they can! Thanks to our leading-edge LMS Integration Tool (known to fans and friends as LIT), your WebXR experiences can live in, and launch from, your LMS—all while gathering, storing, and displaying the learner performance data you and your stakeholders care most about. 
With LIT, learners can launch a WebXR experience directly from an existing eLearning course. When it launches, it cues learners to choose the device they'll be using: headset or computer. They then proceed seamlessly to the WebXR experience. 
While they're immersed, LIT and the LMS share data about learners' identities and performances; The WebXR experience "reads" learners' identities from the LMS and reciprocates by bringing in-experience performance data back to the LMS.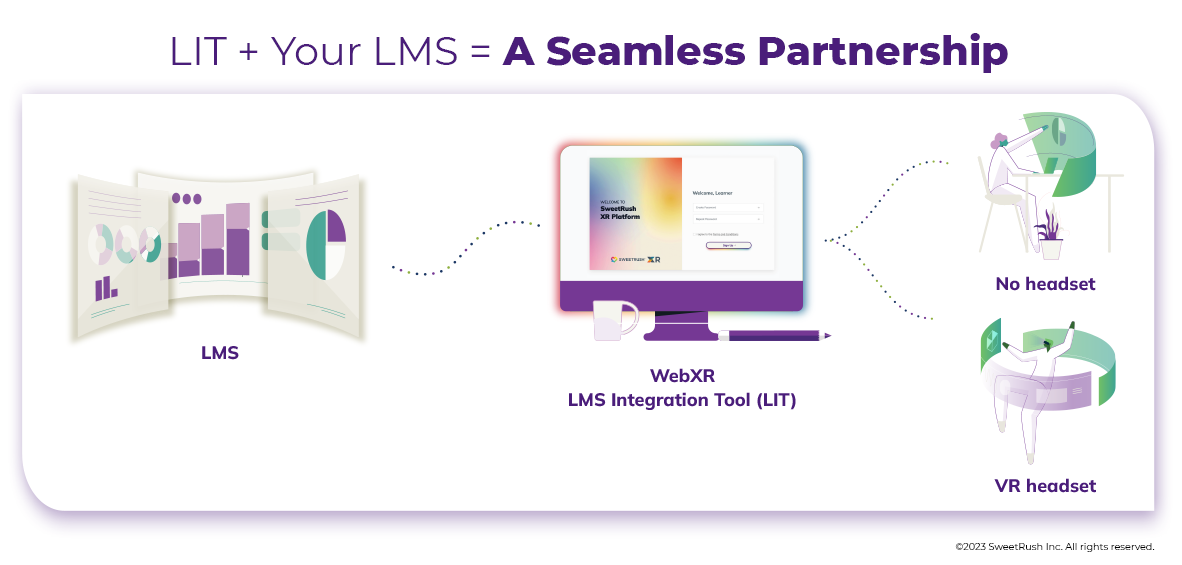 What kinds of performance data, you ask? We'll work with you to customize what matters most to you and your stakeholders. Say you're interested in sentiment analysis to help your learners improve their communication skills within a customer service interaction. 
Chances are, your LMS doesn't know how to process these metrics. But LIT solves that problem with its handy sidekick: the LIT Analytics Dashboard. The Dashboard captures and displays a customized set of learner performance data. 
Your next question is probably, Will LIT work with my LMS? From our experience deploying content on hundreds of LMSs, our working answer is "yes." We'll work with you to help your immersive learning content build a beautiful relationship with your LMS.
7. In terms of data analytics, can we track the users' movements, gaze, etc., within the experience? 
This question is a bit of a "yes, and": It depends on several other pieces of the immersive learning puzzle. 
The "yes": We'll absolutely work with you to customize the learner performance data you collect to provide insight on the metrics that matter most, from tone-of-voice analytics to gaze tracking and reaction time. 
The "and": The data you need to track and the skills you need learners to master will influence the type of immersive experience we build together. We describe these variables in terms of three levels of activity:
Active:

Learners need full presence to interact physically with objects within the 3D environment: for example, to learn how to operate a machine. Active experiences are best as native VR applications, in which learners use a headset and hand controllers to interact with objects in a fully immersive 3D environment. With an active experience, you can track performance data that help you track the learners' responses to their full environment, from gaze to gesture to physical posture. 

Semi-Active:

Learners have some agency to move around, explore, and identify items within the 3D environment: for example, identifying hazards in a manufacturing environment. Semi-active experiences work well in either WebXR format or as a native VR application. 

Passive:

Learners observe the environment and interactions around them as they travel through a 3D environment: for example, by taking a virtual tour or making decisions. Passive experiences work well in both WebXR and native VR formats. 
When we create an immersive experience for the web, we need to design for what Adriȧn Soto, Director of Immersive Technologies, calls the "least common denominator" (LCD), or the lowest level of immersive technology learners might use to access the experience. 
In the case of WebXR experiences, the LCD is the mouse and trackpad, which limits the level of immersion and interactivity we can offer. WebXR is the perfect choice if our goal is to create a great conversational simulation that doesn't require full-body interaction with the environment. 
But if we need to create an experience to teach full-body, fine motor skills such as machine operation or hazardous waste removal, our LCD can't go any lower than the VR headset and controllers. That's why active experiences call for a native VR application: there's simply no way to learn these skills via a laptop or desktop experience.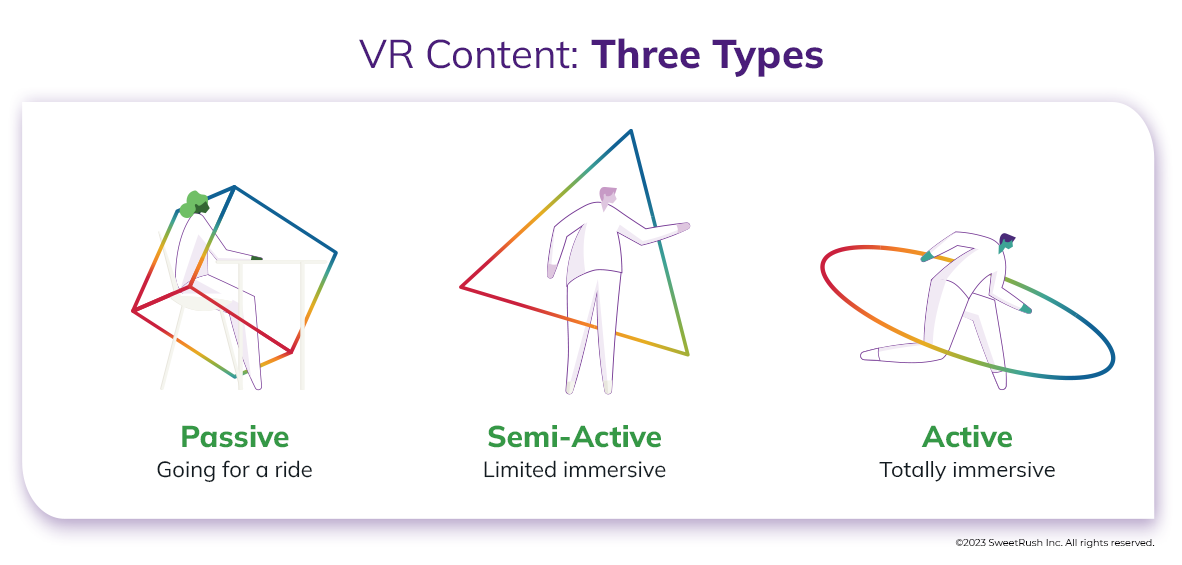 8. Are voice analytics available in the desktop experience, or just within the headset? 
They're available in both! In a recent WebXR project with our client-partner Hilton, we used a built-in AI voice recognition tool to coach learners through high-stakes interactions with dissatisfied guests. This amazing tool provides real-time feedback not only on the words learners choose and their strategy for solving guests' issues, but on their tone of voice as they connect with the guest and express empathy. Best of all, they've got unlimited attempts to get it right: In WebXR-world Hilton, there's no risk to real guest relationships as learners practice thinking on their feet (and with their hearts). 
9. How are the scenarios, characters, and interactions in a VR experience created?
Though we love geeking out over new technology, we're learning experience designers first and foremost. We start with curiosity about you and your learners: We'll analyze your existing content, talk to your subject matter experts (SMEs), and clarify the learning need and performance objective(s). All of this analysis culminates in (drum roll)…a high-level design document.
Once we've landed on a high-level design, we'll storyboard your immersive experience and build the scenarios that will give the learner firsthand experience of how it looks, sounds, and feels to get things right (or wrong!). Then we script those out, creating periodic demos and prototypes for your review. Once we've landed on the right design and experience, we literally sprint into production. 
It takes a village to produce an alpha version of an immersive learning experience, and our team of 3D tech artists, 3D animators, developers, and engineers rise to the occasion by building custom 3D assets and interactions using the tools and software that best fit your needs. 
Then, User Experience and User Interface (UX and UI) specialists review the overall experience to ensure that the overall flow—and the position and placement of instructions, controls, and other elements—are intuitive. Because many learners will be new to immersive learning, onboarding them to the technology is a vital part of the learning experience.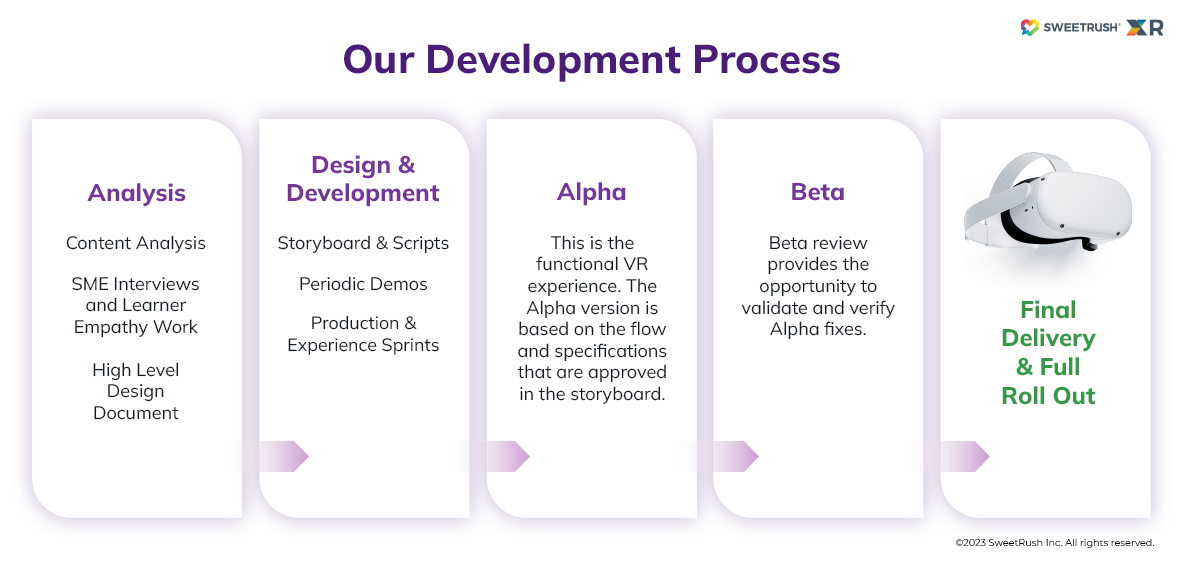 10. How does low bandwidth affect a WebXR solution's performance?
Like any web content stored and accessed from a server, WebXR content relies heavily on internet connection and speed. If bandwidth will be a challenge, a native VR application might be a better fit. It can be downloaded and installed on a headset in a location with a strong signal and utilized anywhere the headset can travel. (Of course, you'd need to repeat this process for any updates.) Striking a balance between scalability and bandwidth can be complex—we'd love to help you figure it out!
11. How could WebXR be used in employee engagement activities?
A multiuser WebXR environment can help us collaborate, enjoy more engaging learning experiences, and meet the next generation of workers with the level of technology they expect. We love building multi-user WebXR spaces that help people gather in real time to whiteboard, brainstorm, prototype, and workshop ideas. 
In these immersive "third spaces," we can mingle naturally with one another and experience more of one another's unique personalities (dare we say quirks?). But they're not just for goofing off: They also allow us to get curious about what our peers are doing, tag along, and learn from them. 
We can also use WebXR for more structured multi-learner experiences. One of our favorite modalities is what we call Virtual Reality Instructor-Led Training (VR-ILT). VR-ILT not only brings us together for the live learning experiences we've all been missing, it also provides immediate opportunities to practice new skills and receive real-time feedback. 
In VR-ILT, the instructor has the ability to control variables in the environment and use real-time data to differentiate instruction for every learner. These data also show when learners have reached proficiency and when they need additional practice (pp. 32–34).
12. Can WebXR be used for marketing and trade? 
Absolutely–that's a great use case! In fact, many of our client-partners find plenty of creative ways to share and leverage their 3D digital assets across teams and functions at their organizations. 
To help them maximize the ROI of their 3D assets, we use an end-to-end consulting process called strategy mapping. Together, we explore potential use cases that could add value to the employee, client, and community member experience. 
Here's an example of how a hospitality client might leverage a digital twin of a hotel: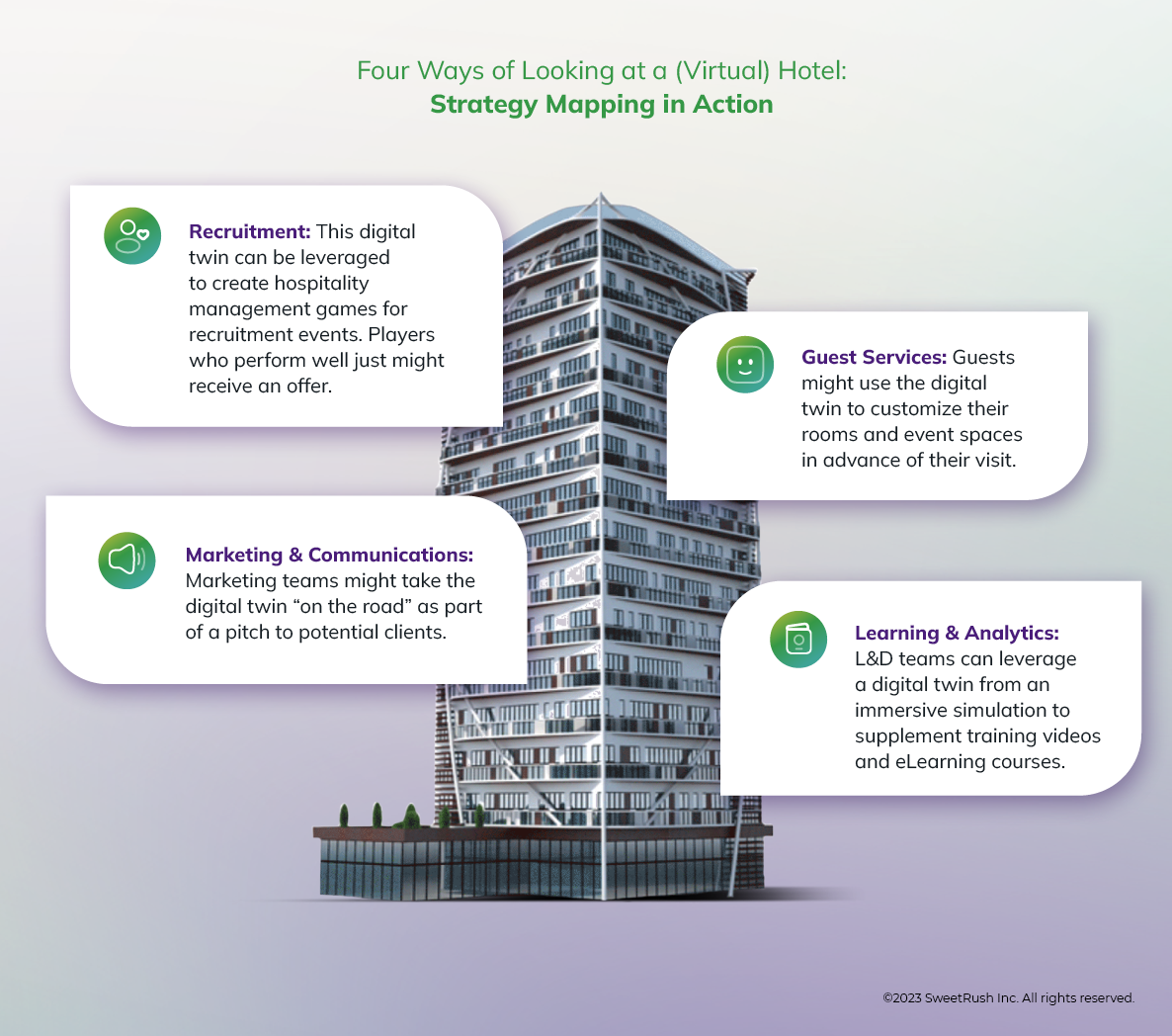 13. How many learners can use a particular WebXR solution at a time? 
The number of simultaneous users a WebXR experience can support depends on server capacity. Project scope (and budget) grows with server capacity needs.
Need to strike the perfect balance between server capacity and scope? We can help!
14. Where is WebXR content hosted?
WebXR experiences are hosted by a server, like any website or web application. Unlike native VR applications, WebXR content does not need to be downloaded and installed on a headset. 
15. What about privacy?
Like so many variables in WebXR solutions, the security of proprietary content and learner data depends upon your organization's privacy policy. Our default stance is not to handle personally identifiable learner information—unless a client-partner absolutely needs us to do so. In those situations, we work together to build safeguards into the WebXR solution to protect both learners and the organization. Because privacy and security measures can significantly impact a WebXR project's complexity, scope, and budget, we start that conversation early…and revisit it often!
16. Does everything need to be custom-built? Are there off-the-shelf WebXR learning experiences, or would we need to partner with a third party?
As with traditional eLearning, the choice to buy, build, or blend has everything to do with the learning content and experience you want to offer your learners—as well as your timeline, budget, branding, and creative needs.
Off-the-shelf WebXR content can be great to meet a general skilling need. For example, if you'd like to upskill your employees in public speaking, our client-partner Coursera offers a highly engaging course featuring nail-bitingly realistic experiences that deliver real-time feedback on learners' ability to engage an audience. 
Custom WebXR content might be the best answer for a skilling need involving an industry-, environment- or brand-specific process and finely honed learner performance data points related to that process. For example, if you'd like to upskill your employees in your branded consultative sales model, you've got a case for a custom solution.
See below for our helpful buy/build/blend cheat sheet. It works for WebXR experiences, eLearning…any learning content at all!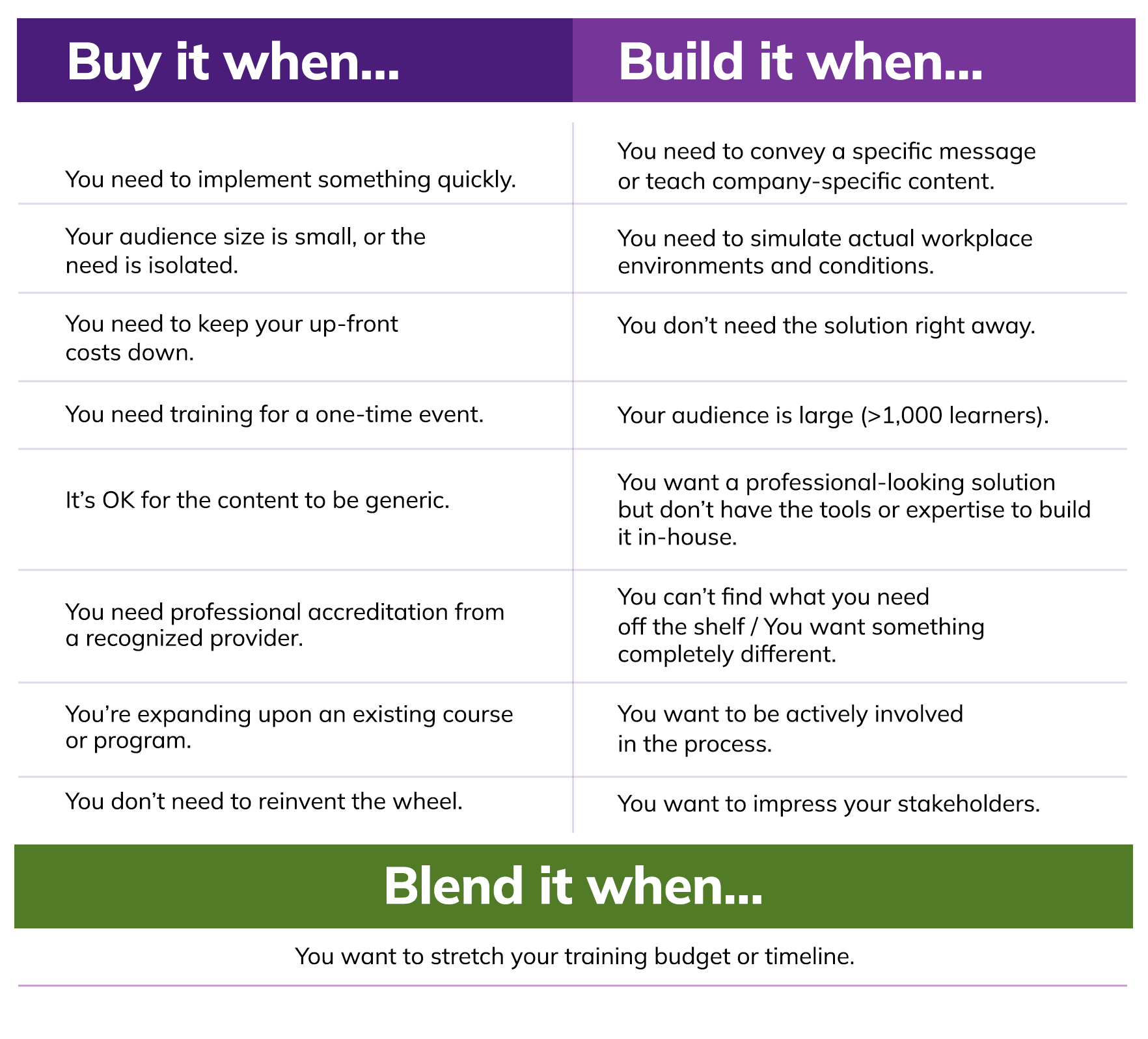 17. Can L&D leaders and practitioners create their own WebXR experiences using a tool, or do we need an external vendor-partner?
Unlike traditional eLearning, which can be created in an authoring tool by one person, it takes a village to create amazing WebXR experiences (See Question 8)…and each villager uses highly specialized skills and tools to do their part. To name a few, our 3D artists create the environment and characters using 3D creation tools; our animators use their respective animation tools to bring avatars to life, and programmers use another software entirely to put the build together and create the interactions. 
If you have the in-house tools and talent to assemble your own WebXR content creation village, go for it! If not, and you have a complex learning need that requires a custom solution, we'd recommend channeling that carpe diem spirit into a relationship with a vendor who can rally their ready-made village to support you.
18. What about updates and maintenance?
Once again, how you choose to handle these depends on your needs, in-house talent, and tools. Our process is that, at the conclusion of every project, the files belong to the client-partner. If they want to maintain them in-house and have the coding expertise on their team to do that, they're off and running! If not, we can create a maintenance package to manage periodic or as-needed content updates. 
Thanks to our Talent Solutions service, we can also offer a third option: Finding a professional with the skills to manage immersive learning maintenance and updates. Our recruiters have placed hundreds of purple squirrels in highly specialized temporary, permanent, and seasonal L&D roles and have earned the satisfaction and trust of our world-class client-partners. 
We're so glad you're getting curious about WebXR and its many superpowers! We're incredibly excited about this opportunity to bring highly effective and engaging immersive learning experiences to more learners than ever before. 
What we love most about our partnerships with our world-class clients is the opportunity to increase access to high-value skills and knowledge…and do more good in the world. 
If you're looking for a deeper dive into WebXR's learning, LMS integration, and data analytics superpowers, download our comprehensive guide, No Headset? No Problem! Launch Your Immersive Learning Strategy with WebXR. 
If you're curious about the opportunities in your world or are looking to talk shop about WebXR or immersive learning in general, we're all ears!