In our article Comparing Off-the-Shelf vs. Custom eLearning Solutions: Which Is Best?, we took an honest look at the benefits and potential pitfalls of buying a ready-made eLearning solution versus building something from scratch with a custom eLearning solution provider. As for which is best, we also gave you an honest answer: It depends!
In this article, we'll dig into what "it depends" means by exploring use cases for both off-the-shelf and custom eLearning. And just like our first article, we'll present you with information to support both options so that you can decide which one is best for you.
Why would we do this?
Because we want to help you make the choice that is right for you—even if that means you don't end up choosing us. 
By the end of this article, you should be able to assess your own unique situation and make an informed decision.
Should you decide that a custom eLearning solution is the way to go, we hope you'll get in touch!

Need a quick refresher on the difference between off-the-shelf and custom learning solutions? Read on or check out our last article for a more detailed look. Already in the know? Jump ahead to the use cases.
What is off-the-shelf learning?
Off-the-shelf, or "out-of-the-box," training describes any content or learning experience that is ready-made. 
We typically think of "off-the-shelf" training as eLearning that's purchased and loaded into an LMS, but there are many other types of off-the-shelf training experiences. What each experience has in common, however, is that they are non-customizable. Meaning, what you see is what you get. 
See our companion article Comparing Off-the-Shelf vs. Custom eLearning Solutions: Which Is Best? for a full run-down of all the options.
What is custom learning?
Custom learning describes any content or experience that is designed and developed—usually from scratch—to meet the specific needs of a company and learner audience.
Depending on the capabilities of the custom learning provider—here are just some of ours—the solution can include modalities such as eLearning, ILT/vILT, mobile learning, games, simulations, performance support, and VR/AR experiences—or a blend of any of the above.
In this article, we're providing use cases for off-the-shelf and custom eLearning solutions. 
Let's begin with off-the-shelf eLearning. Or, if you prefer, you can jump straight to the custom eLearning use cases.
When should I choose an off-the-shelf eLearning solution?
Buy: 8 use cases for off-the-shelf eLearning
There are lots of reasons to choose an off-the-shelf product over a custom eLearning solution. Here's when we think it makes the most sense to buy a ready-made program. 
Need to refer back to this list? Download the article to revisit at any time or share with your team! 

1. When you need to implement content quickly 
If you read our companion article, Comparing Off-the-Shelf vs. Custom eLearning Solutions: Which Is Best?, you'll know that when it comes to implementation timelines, nothing beats off-the-shelf eLearning for speed. 
That's because developing a quality custom eLearning solution takes time. And while there are numerous eLearning authoring tools to choose from, including many that are considered rapid-development tools, you're still looking at a development window that will span at best days or weeks depending on your project's scope and your team's or vendor's capabilities. 
If you can't wait that long, it makes sense to go with an off-the-shelf solution.
2. When your audience size is small / When the need is isolated
Small is a relative term and will mean different things to different-sized organizations. For a large multinational company, for example, a "small"' audience might mean 500 people. On the other hand, a company with fewer than 150 employees worldwide might consider a handful of employees to be a small audience. And then, of course, there's everything in between.
Why does size matter?
Because, as we illustrated in our previous article, while you can expect to receive deeper licensing discounts on off-the-shelf content for larger audiences, there is a point at which the balance shifts in favor of custom eLearning. We estimate this shift to begin at around the 1,000-learner mark on a like-for-like eLearning program with the same seat time and complexity.
With that in mind, if your need is isolated to one or two people (e.g., marketers need a copywriting course), a small team or department (e.g., the IT team needs risk analysis training), or even a division (e.g., the entire customer service division needs active listening skills), it may be more cost-effective to look for a ready-made solution.
3. When you need to lower your up-front cost 
We talked about cost at length in our last article. If you haven't read it yet, and if cost is important to you, stop what you're doing and review our comparison of off-the-shelf and custom eLearning up-front and long-term costs. (You can find it in the custom learning pros section.)
You'll discover that off-the-shelf training has a significantly lower up-front cost than a like-for-like custom eLearning solution. 
We think this is important to call out because we know that you have a budget to manage. In particular, smaller companies, or those with a more conservative L&D budget, may not be able to justify the cost of a custom solution. 
One thing to keep in mind with off-the-shelf eLearning solutions, however, is the ongoing cost of renewing or extending licenses. So don't forget to factor this into your budget for as many years as you expect to need the licenses.
4. When you need "one and done" training
Before you say it, we know. Learning should never be thought of as a "one and done" event. Learning is an ongoing experience. A journey. And we agree 100%. Except when it isn't…
Sometimes, we have to take training for the sake of training. Box-checking compliance and regulatory topics such as GDPR, sexual harassment prevention, and IT security all come to mind. For this type of content that will be taken one time by your learners, it makes more sense to purchase an off-the-shelf solution. 
A note about box-checking content
We're noticing a shift toward embedding compliance into companies' cultural values by way of focusing on mindset shifts. 
If your company still sees compliance as box-checking and it needs to be right now, then off-the-shelf is the right path for you. If, however, you're sensing an energy around shifting these efforts to having a bigger impact, then you may want to explore a custom eLearning solution.
5. When it's OK for the content to be generic
If you read our article, Comparing Off-the-Shelf vs. Custom eLearning Solutions: Which is Best?, you may recall we talked about how off-the-shelf training is typically designed for mass consumption and, therefore, tends to be both industry- and product-agnostic: In other words, generic.
But we also said that this is not necessarily a bad thing. And we stand by that.
Off-the-shelf training is a great option for knowledge-based content and for introducing learners to a concept or topic for the first time. In fact, many of our clients select off-the-shelf training because the content is considered industry-, product-, or service-agnostic. This might include compliance or regulatory topics like GDPR; diversity, equity, inclusion, and belonging (DEIB); IT security; and even power skills like active listening and giving feedback. 
What's important to remember if you're considering heading in this direction is to think about what, if any, content you might need to develop to augment or reinforce the content to make it easier for learners to transfer their new knowledge back into the workplace.
This could be something as simple as a job aid or more complex, like a solution that blends off-the-shelf and custom eLearning content. More to come on this later!  
6. When you need professional accreditation from a recognized provider 
This one is simple. If you belong to a professional association and need to obtain or renew certification in a particular methodology or process, you'll need to head straight to the source.  
Did you know?
SweetRush has helped many professional associations develop award-winning online certification programs, including SHRM, AACN, and the IFRC. 
7. When you're expanding upon an existing course or program
If you're already using content from a trusted vendor and the content is meeting your learners' and business's needs, it makes perfect sense to continue that partnership and add new content when needed. The emphasis being the content is meeting the needs. To get a pulse on this, we'd recommend sending out periodic assessments to your learners to find out what they think about the learning and how they are applying it before investing in more of the same.
8. When you don't need to reinvent the wheel 
We'll end this section with a confession. We're a custom eLearning solution provider, and we recently purchased a suite of 10 off-the-shelf IT security training courses that were distributed to our entire workforce. Why? Because it made no sense whatsoever for us to spend valuable time and resources designing and building something that someone else had already made. 
What we did do, however, was to augment those courses with custom "SweetRushified" guidelines and best practices to help us apply the theory. More on how you should do this later.
So, there you have it! Our recommended use cases for off-the-shelf eLearning solutions. Now let's look at when it makes the most sense to choose a custom eLearning solution.

When should I choose a custom eLearning solution?
Build: 8 use cases for custom eLearning
We're big fans of off-the-shelf training both as consumers and as developers of content for our client partners. But there are some instances when you simply can't beat a custom eLearning solution. Here's our list.
Don't forget, you can download this article to revisit anytime and share with your team.

1. When you need to convey a specific message or teach company-specific content
While there are many scenarios in which it makes perfect sense to buy off-the-shelf eLearning, there will be instances when it's critical that the content reflects who you are as a company (your culture, values, policies, and ways of working) and who your learners are as people (what they do, and what's expected of them). New employee onboarding and any training and development that centers around proprietary processes, tools, or methodologies all fall under this umbrella.
In this instance, you'll need to build the content yourself or work with a custom eLearning provider, like us! 
We've helped numerous Fortune 1,000 clients deliver tailored, impactful training to their learners with our award-winning solutions. Get in touch to share your learning needs with us today!

2. When you need to simulate actual workplace environments and conditions
There's a reason why pilots spend hours and hours in a flight simulator: It offers them a safe yet authentic and realistic environment to practice dealing with emergency situations. 
So, while your learners might not need to demonstrate how to safely land a commercial jet with only one engine working, they might need to demonstrate how they'd resolve a conflict between two coworkers, de-escalate a customer problem, or make a tough decision under pressure. And they probably won't want to do that by being thrust into the action without any preparation or opportunity to practice.
One of our favorite things to do as a custom eLearning solutions partner is to prepare learners for the challenges they'll face in the real world by bringing their world to life on screen. Our team of talented visual designers and developers has recreated everything from hotel lobbies, suites, and kitchens, to car maintenance shop floors, restaurant interiors, and just about every office environment you can think of. Our instructional designers and audio team experts make sure that what the onscreen characters say and do accurately mirrors what your learners can expect to be confronted with. 
This is an area in which custom learning truly shines and where off-the-shelf solutions simply can't compete.
If you'd like to find out more about our capabilities, or if you're curious about working with us to develop a custom learning experience for your next eLearning project, why not get in touch!

3. When you don't need the solution right away
As we mentioned earlier, developing a custom learning solution takes time—and this doesn't include the time it takes to identify a solution provider to work with in the first place.
At SweetRush, we use ADDIE as a framework for our instructional design strategy. This means that before we can begin building your solution, we must first understand the business need. Once we understand why the solution is needed, who it's for, and what the desired outcomes are, we'll prepare a detailed design of your solution—usually in a storyboard format—to get alignment and sign off on the vision. Once the design is approved, we can begin the development process. Using an iterative process (we have experience with both Agile and waterfall project development), we'll build, test, evaluate, and refine the solution. As you've probably guessed, this also takes time!
Depending on the size and complexity of the solution, it can take anywhere from a few weeks to several months or even years to design, build, and implement a custom learning solution. In fact, we often work with clients who have a multi-year strategy in place for the development of their learning solutions. If this sounds like you, we'd love to hear from you to find out how we can help.

Is custom eLearning worth the wait?
We like to think so, but don't take our word for it. Find out what our clients have to say about working with us. And check out our awards for doing what we love! 
4. When your audience is large (>1,000 learners)
We've talked about the cost of off-the-shelf and custom eLearning solutions already in this article. And in our companion piece, Off-the-Shelf vs. Custom eLearning Solutions: Which is Best?, we compare the up-front vs. long-term costs of off-the-shelf and custom eLearning solutions as well as the impact that the audience size has on both.
One of the conclusions we were able to draw from that comparison is that custom eLearning is a more cost-effective option (both in the short and long term) when your audience size is large (>1,000 learners). In fact, the bigger your audience is, the better the cost savings.
What about my off-the-shelf volume discount?
While many off-the-shelf eLearning vendors will offer licensure discounts for high volumes of learners, if you need to renew those licenses on an annual basis, the cost will add up over time. By comparison, a custom eLearning solution has a flat fee for content that can be rolled out to an infinite number of learners.
The majority of projects we work on at SweetRush are for large multinational companies with audiences of >2,500 learners per program. If this sounds like you, get in touch to find out how we can work together.

5. When you want a professional-looking solution but don't have the expertise, tools, or time to build it in-house
While we love to partner with our clients on what we call "solutioning"—needs analysis, program design, and prototyping—sometimes, our clients already know exactly what they want and need. They just need help building the "thing." Perhaps they don't have the expertise or tools in-house to bring their vision to life. More often than not, however, they just don't have the time.
At SweetRush, our capabilities include end-to-end eLearning solution design (analysis, design, development, implementation, and evaluation) and everything in between, and we often work with clients on what we call "co-development" partnerships. 
In a co-development partnership, we might do all the up-front solutioning work (we call this "Phase 1") and then hand off a fully-fledged design that our clients will build in-house. More often, however, our co-development engagements are the other way around. Clients have already done their Phase 1 work and need our help to build the learning experience.    
If you've already done the groundwork and need an award-winning partner to bring your vision to life, get in touch to find out how we can help!

6. When you can't find what you need off-the-shelf / When you want something completely different
Many of our client consultations begin with questions like these: How will you deliver a magical user experience? What can you do that we can't find elsewhere or build ourselves? What makes your solutions special?
Why do clients ask these questions? Because they are looking for something unique and innovative—something different that they haven't seen before. (And our clients have seen and experienced a lot of eLearning!) They want to create experiences that will resonate with their audience and leave a lasting impression. Experiences that off-the-shelf eLearning products can't always deliver.
At SweetRush, we consult closely with our client partners to understand their wants and needs to deliver memorable experiences for their learners. And they don't just look good. In addition to winning awards for our capabilities and creative design, we're also consistently recognized for our results.  
If you're looking for a creative partner that gets results, you know what to do!

7. When you want to be actively involved in the process 
If you read our companion article, where we compared the pros and cons of off-the-shelf vs. custom eLearning, you may be experiencing déjà vu right now. Why? Because in it we explained that, as a custom eLearning vendor, it's true we'll do most of the heavy lifting for you, but we also want you to be actively involved in the design of your solution. What's more, we listed this as a con. 
You read that right! 
While most of our clients do want to be actively involved in the design and development of their custom eLearning, every now and then, we'll encounter folks who either don't realize just how involved they need to be, or they straight up don't want to be as involved as we need them to be.
In our experience, the most successful projects are the ones in which there is synergy and collaboration between our team and yours. Yes, we'll do all the heavy lifting. We'll design, develop, build, test, revise, and tweak your solution until it's exactly what you want. But we want you there with us every step of the way. 
This means we want you in our up-front analysis and solutioning discussions and to review our designs and prototypes. We want you to coordinate SME interviews and review storyboards. And we want you to review and sign off on prototypes and finished builds. This is your baby, and we need your help guiding and informing its development until it's ready to stand on its own two feet and be introduced to your target audience.
Depending on the size and complexity of your project, this can end up requiring a significant time investment. Luckily, you'll have a SweetRush Project Manager on hand to help you plan for this and understand exactly what is expected of you throughout.
If you want to be an active participant in the development of your eLearning, a custom solution could be right for you!

8. When you want to impress your stakeholders
Getting stakeholder buy-in and support for your eLearning strategy can be a tough sell. Stakeholders want to be sure that they are getting a maximum return on their investment when it comes to value and results. Trust us. We know. 
As a custom eLearning vendor, we love helping learning leaders look good by equipping you with the resources you need to win over your toughest critics and skeptics at every stage of your project.
– We'll help you get buy-in. Our tailor-made and beautifully designed proposals bring your business needs to life.  Each proposal includes hand-picked case studies and demonstrations of our work that most closely aligns with your specific challenge. Depending on the size and complexity of your project, we may even build a working prototype that will help your stakeholder visualize the finished product.
– We'll help you demonstrate value. We're confident you'll love how our courses look, but we know that isn't enough. That's why we work closely with our clients to identify your desired business and performance outcomes. We then build content and assessments that align with those outcomes so that you can measure the results.
– We'll help you build your internal brand. Your course is built, and you're excited to get it out to your audience. But will they be as excited as you? We can help you build a buzz around your brand with campaigns. One of the most exciting ways we can help you build your brand is with awards. We're highly experienced and incredibly successful (if we do say so ourselves) with the awards submission process. If you'd like to boost your internal brand with your next eLearning solution, we'd love to help!  
We want you to help you look good in front of your stakeholders. If you feel you could benefit from some help in this area, reach out and share your challenge with us.


The best of both worlds!
Blend: Use case for a blended eLearning solution
So far, we've been talking about off-the-shelf and custom eLearning as an either/or solution. But the truth is that many savvy L&D professionals prefer to blend both options. 
If this were an article about blended learning in general, i.e., one that blends two or more modalities, we'd have another long list of use cases for you. Since we're focusing specifically on comparing off-the-shelf with custom eLearning experiences, we'll spare you from that list (you're welcome!) and share the use case we see most often.
When you want to stretch your training budget or timeline
If you made it this far, and perhaps even read our sister article, you'll have seen a couple of themes consistently appear throughout our comparisons: time and cost.
On the one hand, off-the-shelf eLearning is quicker to implement than a custom eLearning solution but can become costly if you need to train a large audience. On the other hand, custom eLearning solutions take longer to develop but can end up saving you money over time, especially if your audience is large.
It's quite the conundrum! 
Fortunately, there's an easy solution that will help you make the most of your budget and your timeline: Blend the two together! 
How? 
Many of our clients begin by hand-picking off-the-shelf content to provide their learners with an introduction to some basic concepts and tackle knowledge-level objectives. Then, they'll partner with a custom solution provider, like SweetRush, to develop custom content that bridges the gap between theory and application. 
We recently partnered with a client who did just this! 
Our client, a global sportswear brand, needed to upskill their entire digital wholesale team of 4,000 people on e-commerce skills, but they didn't have the budget, time, or capability to create an entire custom eLearning solution from scratch. 
Find out how they solved this challenge and went on to design an award-winning solution by seamlessly blending both off-the-shelf and custom eLearning content.

So, which should I choose?  
The answer to this question is still "it depends," but, hopefully, these use cases will help you identify with a specific situation and, therefore, narrow down the right solution for you.
As always, we urge you to take some time to understand the needs of your business as well as the preferences of your learners and your constraints before you investigate solutions. If you need a partner to help with this analysis, don't hesitate to reach out.

Once you have a good understanding of the problem you need to solve, you can narrow down your options.
Here's a quick summary of the use cases we covered.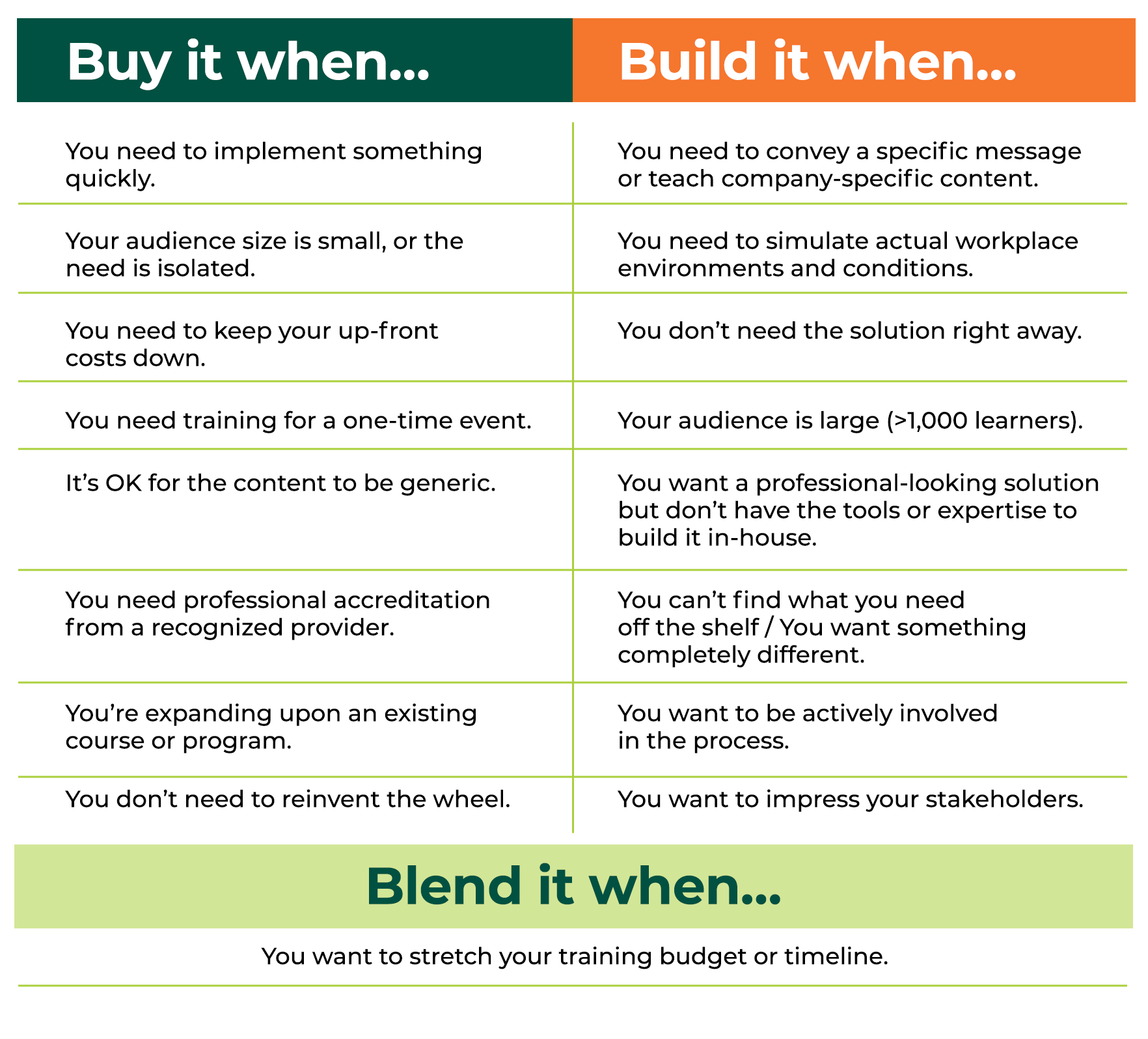 Don't forget, you can also download the article to refer back to later.

Whichever path you take, be sure to choose a vendor that will be consultative throughout and who has your best interests at heart. We'd love to be that partner for you! If you feel the same way, we'd love to hear from you!