In part 1 of this blog post series, I explained why we invest time in a needs analysis—and how critical it is to the success of learning solutions. 
In the next two posts, I'm going to walk you through two different approaches to needs analysis: the first is more strategic and is focused on the future needs of the organization as a whole, and the second is more tactical and concentrates on existing needs.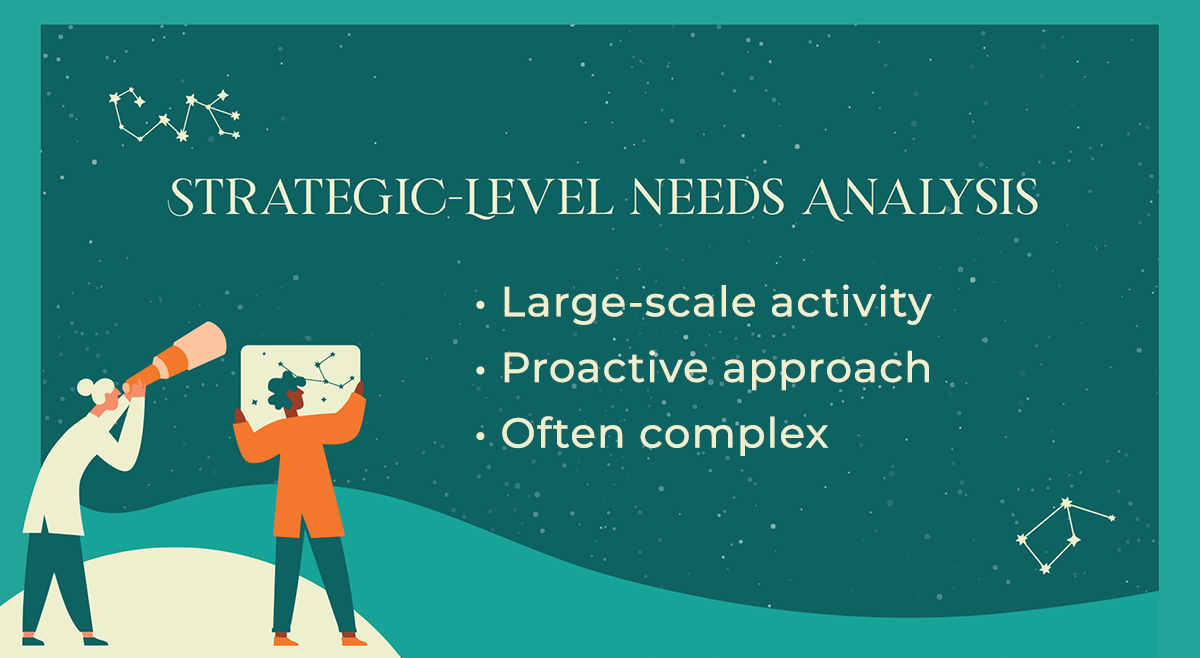 Strategic-Level Needs Analysis
This level of needs analysis is a proactive, forward-looking activity with one simple objective: to ready the workforce to meet future performance goals.
When to use this: You need to help the business identify and anticipate future training needs across an entire business group or organization.
What happens: L&D partners with senior leadership to review the company's strategic goals—usually for the next three to five years depending on your organization's cadence—to determine what knowledge, skills, and performance the workforce will need to meet the goals. 
Level of complexity: Depending on the size of the organization and the number and scope of the strategic goals, this type of needs analysis can range from simple (for small companies with few goals) to extremely complex (think large multinational companies with multiple goals).

What this looks like at a high level: While the specific methods for conducting the tasks listed here may vary, these are the fundamental steps that L&D will need to complete:
Partner with leaders and stakeholders to identify and prioritize the strategic business goals and associated desired business and performance outcomes. 

Identify the necessary knowledge, skills, and behaviors needed to achieve the goals. 

Conduct assessment to benchmark the existing knowledge, skill, and performance levels of the organization (performance gap analysis). 

Define the learning objectives and evaluation strategy for each business goal and desired outcome.

Inventory any existing training materials and resources to see what can be leveraged (content mapping and gap analysis). 
Finished output: At the end of the analysis, L&D prepares a findings and recommendations report along with a detailed solution blueprint and roadmap to help the business visualize and prioritize the solution development.
In our recent Needs Analysis Clinic webinar, a participant asked: "Do you have any recommendations for needs analysis for a large and diverse audience? I need to start working on a company-wide strategy (400+ employees). We are looking to identify the top skills needed."
In this instance, I recommended completing a strategic-level needs analysis. To see my detailed response, click here to view the Q&As from the session and scroll down to question number three.
While the strategic approach does take a while to do and it can be complex, it only needs to be done once every three to five years or so depending on how often your company updates its strategy. And the work you do now will pay off dividends over time!
For a less complex look at needs analysis, head over to part 3 of this blog post series where I walk you through a project-level needs analysis.
For a comprehensive step-by-step guide to completing a needs analysis, download our eBook, The Needs Analysis Playbook.