Welcome to this final post in our needs analysis blog post series. In case you missed it, in part 1, I explained how a needs analysis can save lives (well, sort of). In part 2, I walked you through a strategic-level needs analysis and how to plan for the future. In this post, I am going to show how to handle existing training needs at the individual project level.
This type of analysis should be completed on every learning project, yet it often gets missed or overlooked. My theory: People confuse project-level analysis with the strategic-level analysis and assume it will be time-consuming and complex. In reality, it's extremely easy and straightforward to do—in fact, I've even written a playbook on how to get it done.
Let's take a closer look.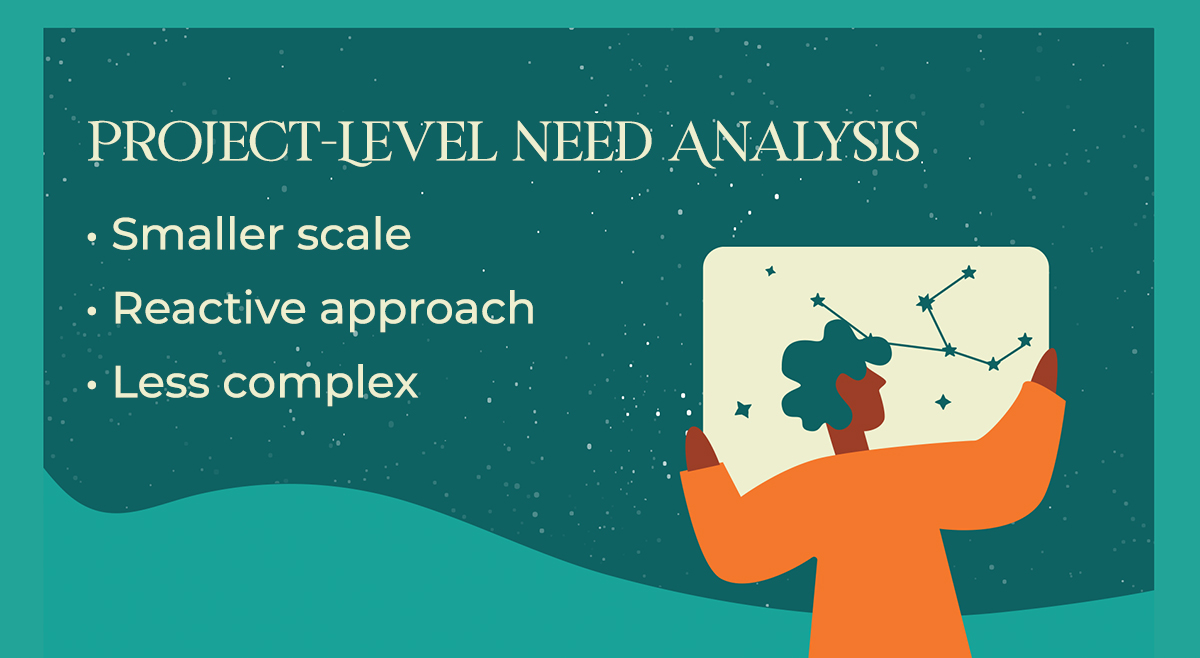 Project-Level Needs Analysis
This type of analysis happens on a much smaller scale—at the project level—and is usually triggered when L&D is approached by its business partners to help with specific training requests. In fact, as a vendor, this is how we begin most of our engagements with our clients. 
The objective for this analysis is simple: to design an effective learning solution that meets the needs of the business and the learner.
When to use this: Use it on every single training project. I'm serious. You should be doing this always—for real, no excuses. Trust me, you'll thank me for it.
What happens: L&D partners with the project's stakeholders to uncover the business needs, learner needs, and any constraints related to budget, scope, and time. 
Level of complexity: While the duration of the analysis may vary depending on the size and scope of the specific project, it remains a very low complexity activity.

What this looks like: This type of needs analysis involves talking to people, gathering data, and then analyzing and synthesizing your findings. Simple!
First, you'll need to speak to stakeholders to uncover the business needs, identify any constraints, and define what success looks like. And then you'll need to speak to your learner audience to find out what they already know and can do, what their work life is like, and when and how they like to learn. 
Of course, there are very specific questions that you'll need to ask the stakeholders and learners—in my playbook, I list all of these for you—but it really is as simple as that. 
Finished output: At the end of the analysis, L&D prepares a report that lists the needs analysis findings and recommendations and may or may not also include a high-level design. 
So there you have it—my quick and easy guide to the value of conducting a needs analysis! I hope this blog series has been helpful. Wherever you are on your needs analysis journey, we have a number of resources to help.
Additional Needs Analysis Resources
For the majority of situations, you'll need to do a project-level needs analysis. Our step-by-step guide, The Needs Analysis Playbook, will walk you through how to do this from start to finish.  
Want more information about how to talk to stakeholders about their needs? Our Needs Analysis Clinic webinar focuses on the six questions you should always ask to help uncover the business needs.
Got a general question about needs analysis? Check out our needs analysis Q&A where we answer your burning questions.
Don't see your question listed? Connect with me and I'll answer your question.
Finally, if you are interested in partnering with SweetRush on your next learning project, contact us and we'll be happy to find out more about your needs!