Explore these 7 themes in our best learning & development articles from 2022.
Happy New Year! We hope 2023 is treating you well so far. 
One of the best parts of a new year is that, while it's a fresh start, it's also a time to reflect on the past. Reflecting helps professionals in all fields grow from lessons learned and, ideally, leverage data, insights, and trends to carry out their strategy.
And that especially applies to learning and development (L&D) professionals. Luckily for us, learning continues to top the list of priorities for many employees and organizations! 
In 2022, learning professionals saw their roles and influence change and grow, as L&D goals merged with organizational goals for an ever-increasing strategic influence. 
So, what can we, as L&D professionals, do to maintain our seat at the table? 
Step 1 is leveraging the resources in this article to help you carry out your learning and development strategy in 2023. 
We've selected the articles that reflect the best of 2022 and give us a peek at what's to come in 2023 (and beyond), arranged by 7 themes, as shown below.
#1: L & Deja-Vu!
Let's take it wayyy back… Why stop at just 2022? Hop into our time machine with us as we cruise decades back through our interactive timeline. Take a look at the different generations (Alpha, Gen Z, millennials, Gen X, Baby Boomers, and the Silent Generation), norms in media, and advancements in technology over the last century. 
How did these circumstances affect L&D? 
How did they affect the workplace? 
This in-depth analysis of the workplace shows us the context of how L&D has evolved and how disruptive change is constant.
Changes in the Workplace and What's Ahead for 2022 
Over the past century, the workplace has evolved to reflect changes in society. Journey with us as we take a trip through time and explore what the future holds.
Learn more here.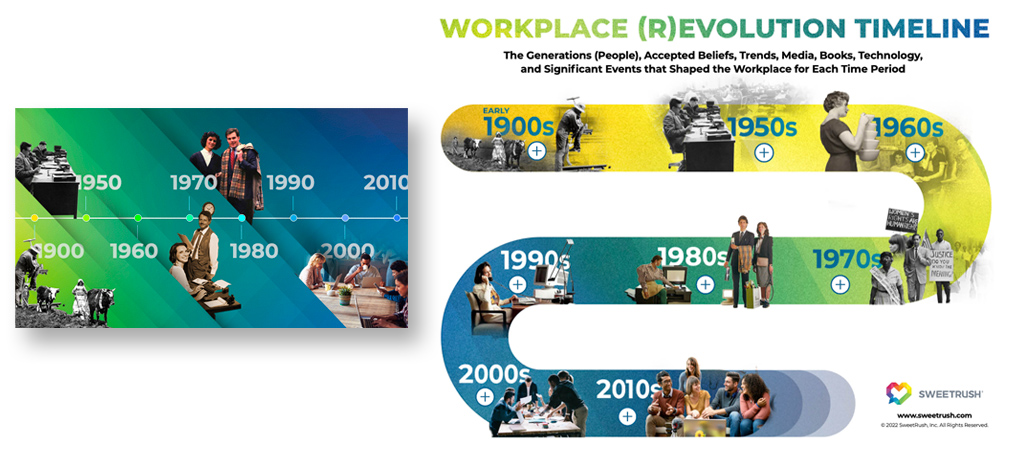 #2: Skills
(Resilience and Power Skills Lead the Way)
Both employers and employees are focused on acquiring skills. Skills have been called the new "currency" of 2022 in the workplace, highlighting the importance placed on upskilling and reskilling. 
And L&D is now helping organizational leadership navigate this complex process while also empowering employees to take control of their careers by providing pathways to job opportunities. 
In the articles below, our experts explore the top skills challenges and opportunities, what L&D teams can do, the importance of power skills, and the most in-demand skills in the workplace.
L&D Challenges, Life-Centered Solutions: Transforming Business & Unlocking Human Potential
Our 2022 L&D trends report analyzes data collected from learning leaders and practitioners. Discover the top challenges they're facing and find out what advice our team of experts has to help L&D succeed.
Read the full L&D trends report to learn more.
12 Tips for Using Power Skills to Create the Workplace of the Future 
Discover how to harness power skills (also known as soft skills) and future proof your organization with our 12 tips for the C-suite, leaders, and individual contributors.

Harness your power skills. 
The L&D Trifecta: Why Agility, Adaptability, And Resilience Top The List Of In-Demand Skills 
This article is an award winner! It was voted #2 in the employee training category by eLearning Learning, which evaluates content from hundreds of industry thought leaders. The article features data from 200+ L&D leaders, who report that agility and adaptability are the most vital workplace skills for 2022. And there's a prerequisite: resilience. Try these 3 tips from our workplace culture experts to boost your team's resilience—and your own.
Discover more about the most in-demand skills.

Is Your L&D Team Ready to Meet the Employee Skills Development Challenge? 
Employee skill development is a hot topic—but helping employees develop skills isn't easy. Our experts share the three-part employee skills challenge, the opportunity, and the inspiration for building skilling solutions that engage learners and help them springboard into the future of work.
Get your team ready to develop employees' skills here. 
#3: Learning Experience Design (LXD) and Learning Analytics
Data and analytics continued to be hot topics and areas that are both a challenge and an opportunity in L&D (we like to call this a "challenge-tunity"). Check out these articles to get inspired on different ways to incorporate measurement into learning & development.
How Needs Analysis Can Help Solve the Learning Analytics Challenge
Measurement and analytics continue to be struggles for L&D. In this article, Emma discusses why she thinks learning analytics is a challenge and shares her top three tips for those who are just getting started.
Solve the analytics challenge with needs analysis.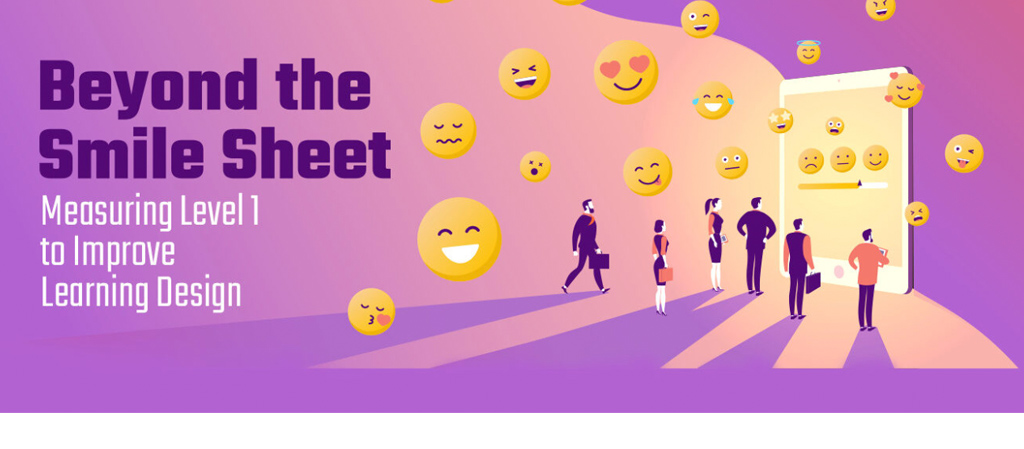 Beyond the Smile Sheet: Measuring Level 1 to Improve Learning Design 
This article landed on Training Industry's Top 10 Articles of 2022 list! Discover how xAPI can enhance Level 1 data for stakeholders, L&D leaders, and UX designers with insights into learner behavior. 
Ask a Psychometrician, Part 1: What's a Psychometrician? 
Want to write better, smarter, fairer tests and rubrics? You've got a case for a psychometrician! Learn how these assessment MVPs measure progress and mastery.
Find out more about this intriguing role. 
#4: Helping You Make Informed Decisions
When it comes to choosing an eLearning partner, we know you have a choice. In an effort to model transparency and openness, we're demystifying the pros and cons of different eLearning solutions. Our step-by-step guides contain cost comparisons, use cases, and answers to your burning questions by offering an honest view of the different options available to you. What's the catch? There isn't one! We want you to find a solution that will best suit your organization's needs—even if it means you don't choose us. (Honestly!)
Comparing Off-the-Shelf vs. Custom eLearning Solutions: Which Is Best? 
Make more informed decisions about whether to "build or buy" training content with these pros and cons of off-the-shelf and custom eLearning solutions.
Get the full comparison to see which eLearning solution is best for you and your organization.
Buy, Build, or Blend? Use Cases for Off-the-Shelf and Custom eLearning 
Still unsure whether to buy, build, or blend your next eLearning solution? In this article, we'll help you decide with 17 different use cases. Discover which one matches your specific needs with our comprehensive guide.
Find out which eLearning solution works for you in this in-depth analysis.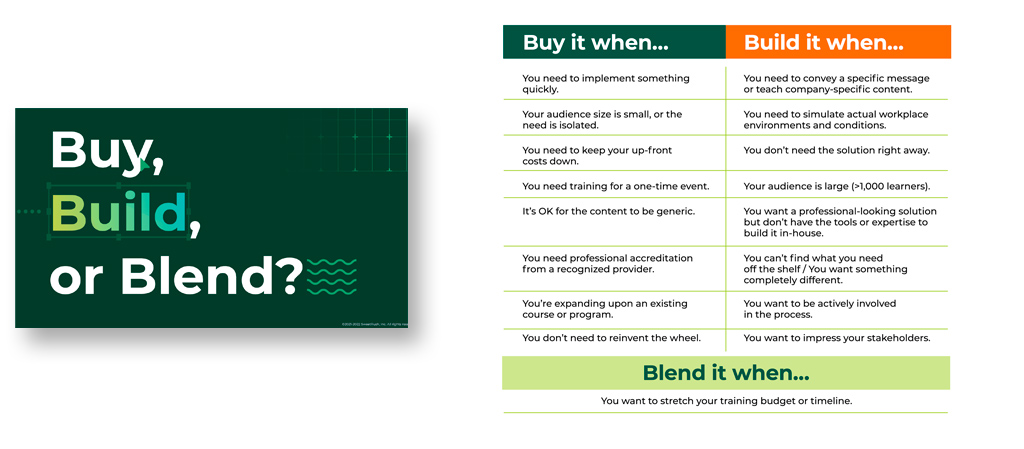 #5: Understanding Immersive Learning and the Metaverse
In the year that SweetRush was named No. 1 Content Provider for Immersive Learning by eLearning Industry and joined Training Industry's Top 20 List for Experiential Learning Technologies Companies, we sought to unravel the mysteries of the metaverse with an eBook and article series.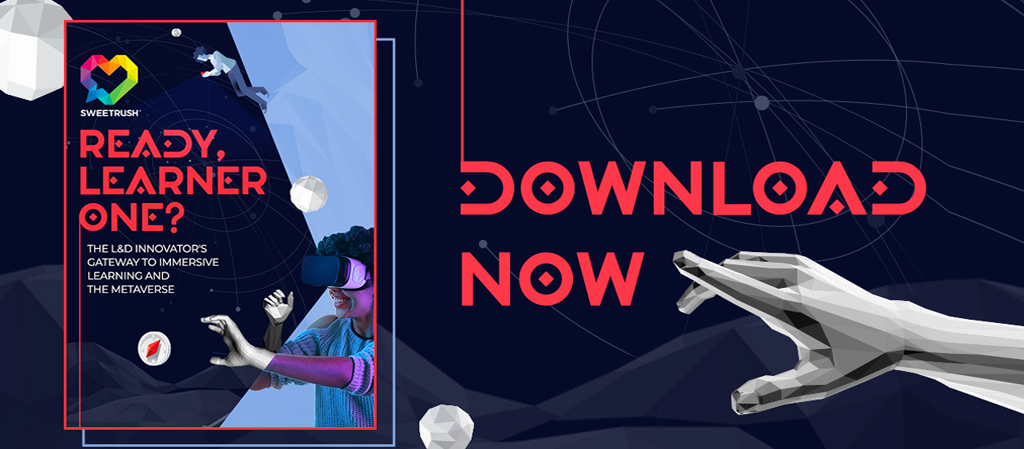 Ready, Learner One? The L&D Innovator's Gateway to Immersive Learning and the Metaverse
Wondering what the metaverse is—and what's in it for L&D? Join us for this guided tour of immersive learning in the metaverse and beyond. You'll discover who (and what) lives in the metaverse, four strong use cases for immersive learning and what the future holds for this space. 
Dive in deep and explore the full eBook on immersive learning and the metaverse. 
The Metaverse: Just a Fad, or the Future of L&D?  
What is the metaverse, and what's in it for L&D? This level-set shows you what's there, how it works, and how you can leverage the learning potential of the metaverse to create immersive learning experiences that make a difference.
Understand more about the longevity of learning in the metaverse. 
7 Steps to the Metaverse: Is Your Organization Ready for Immersive Learning? 
The metaverse is an exciting place—but is it the right home for your learning strategy? Find out with these seven needs analysis steps for immersive learning.
Access the 7 steps. 
A Match Made in the Metaverse: How to Partner Up with the Perfect Immersive Learning Pro 
This six-step checklist helps L&D leaders and practitioners identify immersive learning vendor-partners with the right skills, priorities, and team members.
Find your perfect immersive learning partner. 
#6: Hybrid Workplace + Virtual Learning + Collaboration = Screen Fatigue!
Let's face it, we all struggle with keeping our attention undivided these days. Engagement is everything when it comes to learning. People won't learn if they're not engaged. L&D continues to vie for the attention of increasingly distracted, screen-fatigued learners so that learning sticks. 
In these articles, we dive into factors that affect remote learners, such as asynchronous learning, how to build in learning pit stops along with rest, how nature impacts learners, and the secret to better virtual management.
Create Impactful Virtual Training Experiences for Asynchronous Learning 
As more hybrid workplaces embrace zoom- and video-free days, we reflect on what this means for L&D and the asynchronous learner. Discover how to design impactful virtual training experiences for your asynchronous learners with our 6 tips.
Start creating impactful asynchronous learning now.

How Learning Journey Pit Stops and Nature Can Beat Screen Fatigue 
Learning engagement is a top challenge in content creation. To create human-centered learning, empathize with screen-fatigued learners. Learning designers can build communities for learners, ritualize learning with artifacts, and create opportunities for rest and reflection away from screens.
Find out how nature, rest, and pit spots help learners. 
Manage as if You've Never Been Burned: Mindsets and Practices for Better Virtual Management 
Need better virtual management skills? Borrow these proven mindsets and practices from our 10+ year experiment in remote work! 
Get the tools you need for virtual management. 
#7: Workplace Matters—Exploring the Intersection Between Life and Work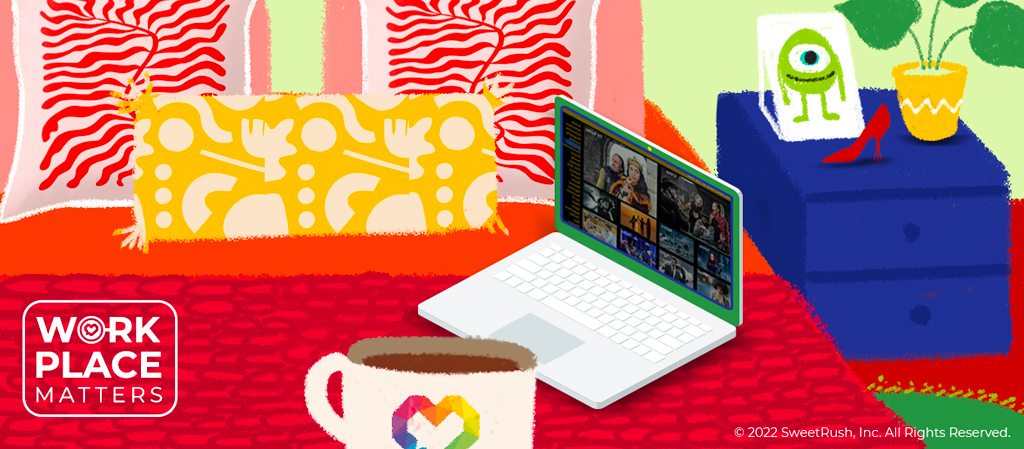 This year, we launched a new monthly series, Workplace Matters. In it, we explore the latest in life and business, mixed with a healthy heaping of pop culture.
The inspiration for the series was the first article we mentioned above in theme #1 about changes in the workplace. We looked back at the last few generations of the workplace. And that got us thinking about work, life, and everything in between.
Top 10 Songs About Work and the Employee Experience 
What "Cat's in the Cradle" and "Break My Soul" tell us about empathy, work-life balance, quiet quitting, and more.
Enjoy the tunes and analysis. 
Top 10 Movies/Shows About the Workplace 
What The Office, The Devil Wears Prada, Office Space (and more) can tell us about the employee experience, corporate culture, and workplace trends.
Relive your favorite tv shows and movies and see what we can learn from our favorite (or least favorite) characters at work. 
So, that was 2022 in a nutshell! It was a lot, wasn't it?
We hope you were able to reflect and enjoy reminiscing and examining the L&D industry, which continues to find new and exciting ways to improve the lives of people around the world.
Armed with the insights, research, and data provided in this article, we have no doubt that 2023 will be the best year yet (for both you and L&D). 
If you want to stay in the know, sign up for our newsletter.

Here's to a new year of learning, growing, and exploring!