Making the decision to invest in a custom eLearning solution is a big step—one that typically involves getting buy-in and approval from senior leaders and stakeholders, who'll almost always want to know (among other things), What is this going to cost? and How long will it take?
At SweetRush, we have a saying: Dream it and we can build it. In fact, we tend to liken our capabilities to the construction world. Our experienced, award-winning team of talented designers and developers can design and build anything you can think of: from a small addition to your home (we call this a Level 1 solution: think a microlearning experience) all the way up to a palatial mansion with multiple spaces for entertaining and relaxing (Level 3: think an immersive, highly customized simulation for a global audience)—and everything in between (Level 2)!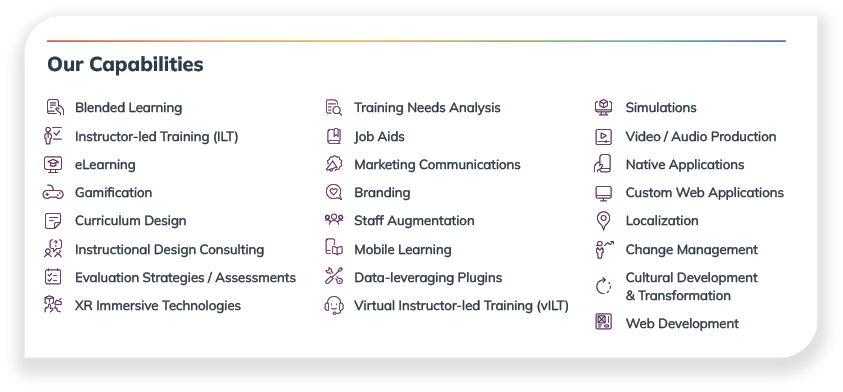 But, just as the cost of building a small addition versus an entire home varies, so too does the cost (and time it takes) to design and build a custom eLearning solution. There are just so many different factors to consider. 
The good news is that, with more than two decades of experience working with our amazing clients to build their dream custom eLearning solutions, we have a pretty good idea about what those factors are and how they affect cost and time. 
In this article, we reveal those factors and how we use them to calculate the cost of your custom eLearning solutions. We also explain how together we can manage the cost of those factors.
But that's not all! 
We also share what you can expect to pay for 60 minutes of SweetRush custom eLearning as well as how much time it takes to develop
You heard that right.
We are lifting the lid on the price ranges of our custom eLearning solutions.
Why would we do this, I hear you ask. 
Because we want you to have all the information you need before you have that all-important conversation with your stakeholder (and before reaching out to us, for that matter)
Your time is valuable, and we don't want to waste it by putting you through an unnecessary discovery phase—especially if price is a deciding factor for you. 
While you might be tempted to jump straight ahead to look at the pricing (hey, we get it, we even hooked you up with a hyperlink!), we encourage you to also look through everything else so that you have the full picture and understand what goes into these calculations. 
We also want you to understand what that price tag will get you. In, What's Included in the Cost of my SweetRush Custom eLearning Solution? you'll find out what to expect when working with us, from the project team roles to the workflow and deliverables. 
Knowledge is power, and you want to be fully informed when it comes to making the right decisions for your business.
So, assuming you haven't jumped ahead and looked at the cost already (there's that link again!), let's look at the factors that have the biggest impact on the cost of a SweetRush custom eLearning solution.
Want to refer back to this later? Download the article in full to read later or share with your team!

What Are the Factors That Affect the Cost of a Custom eLearning Solution?
We likened creating a custom eLearning solution to designing and building a house. We expand on that analogy as we walk you through the factors that affect the cost of your custom eLearning solution. When applicable, we also share how we calculate those costs, what can affect the cost of each factor (we're going meta with the factors that affect the factors!), and ways to potentially lower the overall cost of your solution.   
1. Seat Time 🪑
Usually expressed in minutes, seat time is the total amount of time it takes the learner to complete the eLearning experience. It's also probably the easiest to understand: the longer the experience, the higher the cost.
Sounds simple enough, but it's not always a straightforward calculation. Let's break it down a little.
🏡 Building a House: 🪑How Big (or Small) Do You Need It to Be? Are you looking for a one-bedroom ranch or a multi-story mansion with a dozen en suite rooms plus a screening room, outdoor kitchen, and a pool house? Perhaps all you need is an addition built onto the side of your existing home? Understanding the size and scale of your need gives us a starting point for determining the scope of your project.  
How is seat time calculated? 🤔💭
There are a couple of ways we calculate the seat time depending on whether we're converting an existing program or building something from scratch. 
Converting ILT/vILT to eLearning 
When converting an existing instructor-led or virtual instructor-led training (ILT or vILT) to eLearning, we use a typical conversion rate of 20–30 minutes of eLearning per hour of ILT. (These numbers can vary depending on the source content and density of the original design.) We then carefully consider the desired business and performance outcomes to refine these numbers and calculate the seat time needed to meet those objectives and goals. 
New Solutions
For custom eLearning solutions that are not conversions from ILT, we begin with a needs analysis to reveal the desired business outcomes and performance gaps. We then identify the number of learning objectives and the evaluation strategy and work backwards from there to determine how much content (seat time) is needed to support the learning outcomes. 
At SweetRush, we refer to this up-front analysis, which also includes content analysis, as
Phase 1
work. We can do this work as part of a holistic solution, in which we go on to design and build your solution (the pricing in this article reflects this model). Another option is to have SweetRush complete the Phase 1 work, and then you build the solution. We can do this via our
CoDesign
service or a workshare
CoDevelopment
model.
Note that what both of these approaches have in common is the learning objectives, which are always the driving force behind our seat time calculations. 
What are the factors that can impact the seat time calculation? 🤔💭
Even with these guidelines in place, seat time calculation is more art than science and there are other factors that can impact the final numbers. Here are the ones we come across most often.
> The number of learning objectives 🎯
As we've already mentioned above, we use learning objectives to help us determine the seat time for your eLearning. More learning objectives = more content = a higher seat time. And a higher seat time = a higher cost
> The complexity of the content 🧩
At SweetRush, we group content into two broad categories or types: knowledge-based and performance-based.
Knowledge-based

content is usually focused on teaching facts, concepts, and processes. In other words,

what learners need to know.

Performance-based

content focuses on procedure and decision-making and

what learners need to do.
Each of these content types requires a different instructional approach. The same is also true when it comes to assessing comprehension and competence. Knowledge can be tested with traditional testing methods such as quizzes and assessments. Performance, however, must be demonstrated, which means building more sophisticated means of testing the learners. Which, you guessed it, means higher seat times and higher costs. 
> The number of audiences 🙋🏽‍♀️🙋🏼🙋🏿‍♂️
Note the wording here. We're not talking about the size of your audience, we're talking about how many different audience types the solution is for, and more specifically, whether the eLearning content or experience will need to be different for each audience. For example, we see this happen most often when there is a need to create an eLearning solution for an entire team or business unit that has either additional or nuanced content for leaders within that same team. Different versions of the same content will require additional design and development, which will impact the overall cost. 
> Personalized or adaptive training requirements 🧭
Personalized or adaptive learning experiences are ones in which the learners have control over how much or how little content they consume. The idea is that they can skip over or test out of content and concepts they're already familiar with and take a deeper dive into areas of personal interest or those that need further development.
Since the true seat time for each learner will be different based on their experience and expertise, seat time is calculated on the time it would take for one person to go through each and every piece of content—even if this is not a likely scenario. The additional content still needs to be designed and developed, which has an associated cost. It's worth mentioning that, while there's an up-front investment in the content development, there are downstream savings in your busy learners' time, and it's overall a better experience for them—we can help you think through those tradeoffs
> Branched or scenario-based experiences 🔄
Along the same lines as personalized or adaptive eLearning experiences, scenario-based learning also means that we are developing content that not all learners will get to experience.
For example, we recently created a scenario-based call center training experience. Each scenario was branched, meaning that the learners' response would trigger the scenario to play out in different ways. And while it took learners, on average, 10 minutes to complete the scenario, we created five times that amount of content to account for all the different paths the conversation might have taken. More content = higher total seat time = higher cost.
Want to sit down and talk about seat time? Get in touch!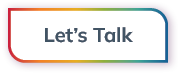 2. Content Readiness and Content Stability 📚
The second factor affecting the cost of your custom eLearning solution is content readiness and content stability. Put simply, we want to understand what information we have to work with and how reliable it is.

What is content readiness and how does it affect the cost of custom eLearning solutions? 🤔💭
Content readiness refers to the amount of content that is readily available to us before we can design and build your custom eLearning solution. To be clear, we're talking about the tangible stuff here. How much already exists in writing—as an existing slide deck, PDF, job aid, and so on—versus how much exists only in the head of your subject matter expert (SME)?
Having more documented content readily available means we can get to work much more quickly. It also means we won't have to spend as much time on content analysis and research to identify and fill content gaps, all of which affect the timeline and cost.
Having little to no documented content readily available means we need to spend more time up front to identify the content gaps and then locate and interview the SMEs who can help us fill them. This additional effort, particularly SME involvement, will have a significant impact on the cost of your solution.  
What is content stability and how does it affect the cost of custom eLearning solutions? 🤔💭
Content stability is essentially reliability, in other words, how much we can count on the content staying the same throughout the duration of the project. 
When content is stable, we have a clear indication of the total seat time, which, as we've already talked about, is a major factor in the cost. Having stable content also means we can prepare accurate project plans complete with milestones and deadlines that you can hold us accountable to. 
When content is unstable, it becomes difficult for us to predict how long things will take. This means you can expect a more collaborative and iterative experience that will involve more reviews, longer development timelines, and a higher likelihood of scope creep. 
How can you manage the cost associated with content readiness and content stability? 🤔💭
Since content readiness and stability are the only factors on this list that are completely out of our hands, here are some ways you can manage this cost.
💡Do your needs analysis. Having a clear understanding of what the business needs and the expected outcomes are is critical. You'll also want to find out who your target audience is and what their performance gaps are. Without this, you are maneuvering in the dark and won't know what content you need to find. 
💡Identity the learning objectives. As we've already discussed, we use learning objectives to calculate seat time, but they are so much more important than this. The learning objectives also inform the content that will be needed to support the learning. Knowing what the learning objectives are will help you to track down content (and SMEs) more intentionally. We should add that we're not looking for perfection here, but if you can describe what it is your learners should know and be able to do by the end of the training, you'll be off to a flying start! 
💡Gather content that aligns with the objectives before engaging with a custom eLearning provider. The heading for this bullet originally read, Gather as much content as you can before engaging with a custom eLearning provider, but more content isn't always better. You'll save the most time (and money) if you gather content that supports the objectives (what learners should know and be able to do). 
💡Be honest about what you have and what you don't have. This is perhaps the most important tip we can give you. The more transparent you are with us, the more accurate we can be with our scoping process. Higher accuracy means fewer surprises down the line.      
💡Wait until your content is stable. If you know that your content won't be ready for some time or that it needs to go through several more rounds of internal reviews and is subject to significant change, then it might make more sense to wait until things are more stable. The key being significant change.  
💡Avoid bringing in new reviewers at the end of the project. This is good advice no matter what, but it's especially relevant if you know you're working with unstable content. To avoid last-minute changes, make sure you have all your stakeholders identified at the beginning of the project and get commitment from them to be part of the review process throughout.   
Finally, we should point out that we can work with any and all variables when it comes to content readiness and stability. Got no content? No problem! Got all the content you need? Great! Got some content but you're waiting on it to be finalized? We're good with that too. Need us to find the perfect SMEs? You got it.
Are you ready, willing, and stable (groan) to talk content readiness? Get in touch with the team today!

3. Visual Design 🎨
The third factor to impact the cost of your eLearning solution is visual design. Since everything we create is custom, the cost associated with visual design depends entirely on how pretty, punchy, or plain you want it to be.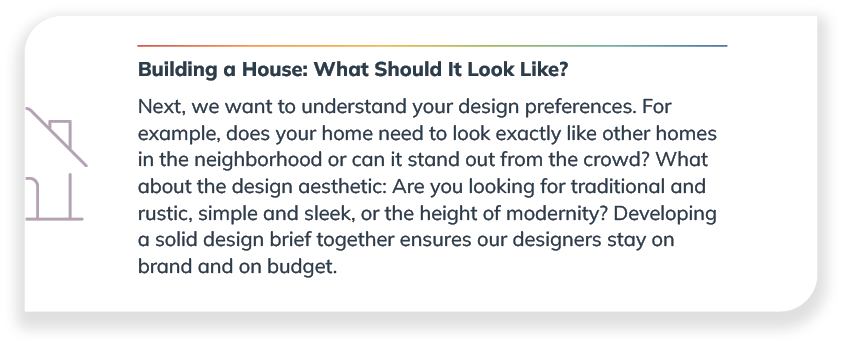 What can affect the visual design costs? 🤔💭
The most significant drivers of cost when it comes to visual design relate to customizing the eLearning interface (the screen that learners interact with) and the multimedia elements that we'll be leveraging or designing and developing. 
While the level of customization for every project is different, we typically offer three different levels as a jumping off point.  
Low customization (Level 1):

Level 1 typically involves customizing the interface of your eLearning solution to align with your company's branding. We'll match colors and fonts and can bring over logos and other graphic elements that you provide. Level 1 programs tend to be photo-based; we can use photos that you provide or stock photography. Level 1 visual design also includes the design and development of digital assets such as infographics and charts. 

Medium customization (Level 2):

Turning things up a notch is our level 2 offering, with which our designers will perform additional customization of the user interface. You can expect to see customized buttons, menu bars, and navigation tools or devices. Multimedia elements are also more sophisticated at this level and might include custom 2D illustrations, GIFs, and animations. Level 2 is where you'll also see avatars presented as an option.    

High customization (Level 3+):

This level of customization is as fancy as it gets! At Level 3 and above, pretty much everything and anything can be customized. This is where we'll also bring in 3D illustration and animations. The sky's the limit!    
How do we manage the cost of visual design? 🤔💭
In addition to making recommendations about the level of design and the use of different multimedia elements, there are a couple of very specific ways we manage cost.
We focus on learning first. 🚌 
When you're working with a custom eLearning provider for the first time, it can be very tempting to go after the "shiny new thing." And while we're very good at making shiny new things, we know that what's most important is that people actually learn something. To make sure this happens, our Creative Directors work hand-in-hand with our Learning Experience Design team to create experiences that impact learners' performance first. 
We don't do things just because we can. 🚦
Following on from the last point, we don't animate avatars just because we can. We do so only when it enhances the learning experience. Instead, we'll offer up an alternative (such as a motion graphic) as a more cost-effective way to create the same visual "wow." This ability to present different options is made possible by our team's deep understanding of the learning objectives, scope, and budget. 
We consider the big picture. 🌎
If we know that we're going to be working on multiple courses or projects together, we'll recommend developing eLearning templates, interactions libraries (customized versions of the screens we think you'll use most often), and design assets (think buttons, avatars, backgrounds, etc.) for you that can be repurposed across multiple projects. 
Creating a series of ready-to-go assets means spending a little extra time up front on your first project with us, but you'll get that time back with dividends on every project we complete together after that!
We use an asset tracker. ✅
When we scope your project, we'll have a starting list of assets (for example, number of photos, illustrations, animations, and videos, etc.) that are included in the cost of your project. However, when we begin the project and dig into the content, we often find that different assets would make the learning more effective. Our asset tracker is a nifty tool we use to itemize and calculate how long it takes to create each asset and how many hours we have overall to create all the assets. We can use the asset tracker to make trades—for example, one illustration might take eight hours to create, but a chart might only take four; so we know that we could swap one illustration out for two charts if we wanted to and stay within budget and hours. We keep a close eye on the asset tracker throughout your project to make sure we're sticking to our agreed budget. 
4. Technology and Tools 🛠
The fourth factor affecting the cost of your custom eLearning solution involves the technology and tools we'll use to build your solution.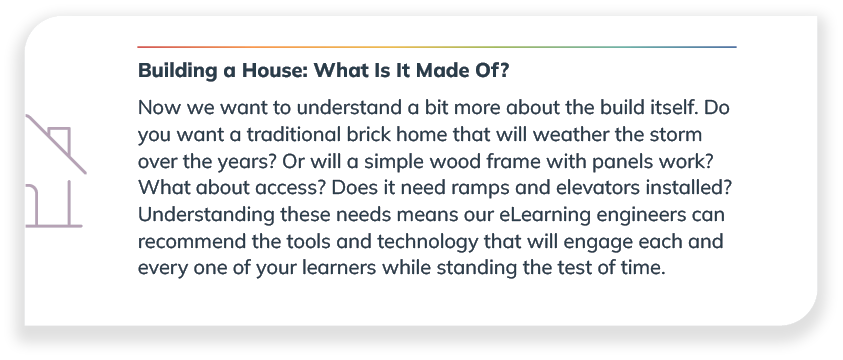 At SweetRush, we're both LMS and technology agnostic. Our talented team of developers have experience and expertise across multiple learning technologies and will work with you to identify the best fit for your learners' needs. 
What can affect the technology costs? 🤔💭
We could write a book about this one, but we'll keep things simple with the three things we run across most often.
The tool/technology itself
The biggest factor affecting the cost of the technology we're using is the tool itself. For example, a solution that's built with a rapid development tool, such as Rise 360, will take less development time than a solution that's coded from scratch. Or mobile apps. Or AR and VR experiences. Or chatbots! We know! We've built them all! 
It's worth noting that with savings comes limitations, such as fewer customization options and interaction types to engage learners. And sometimes that's okay!
The level of customization
Most of the eLearning authoring tools you've heard of are capable of being customized. You know this already. You can change up colors and fonts and adjust the timing of interactions and so on. Some of them can even be customized to the point at which you might not even recognize the tool that's sitting beneath the finished solution. Each level or degree of customization, no matter how big or small, requires additional development time, which leads to a higher cost.
When we're using new or unfamiliar technology
We're pretty well-versed in learning technologies and use our experience and expertise to recommend the best tools for your custom eLearning project. From time to time, however, we're asked by clients to use a learning technology that's either new or unfamiliar to us. In this instance, we may require additional time to learn about the technology, which could add to the cost of your project. More often than not, however, we'll source an expert to join our team for the duration of the project.
How do we manage this cost? 🤔💭
As with all the other factors we've looked at, we always have your best interest at heart and will work with you to select the learning technologies that best meet your needs. Our talented team of developers will then leverage their experience and expertise to optimize those technologies to get the very best out of them. 
5. Timeline 📆
We've saved the easiest one until last! The final factor is timeline, and it's a pretty straightforward concept to wrap your head around. 
We want to know: How soon do you need your solution to be ready?

How does the timeline affect cost? 🤔💭
So far, we've been talking about the factors that impact the cost of a custom eLearning solution. We've also called out how most of the costs are associated with the time it takes to develop the solution. 
More seat time = longer development time = higher overall cost. 
More complex technology = longer development time = higher overall cost. 
But the timeline itself can also be a factor.
We've been designing and developing award-winning eLearning solutions for two decades. We've fine-tuned our processes and teams to maximize productivity. We have a good sense of how many people and how much time it takes to get the job done to our industry-leading standards, and we scope and price our solutions that way. There's one thing, however, that can upset the proverbial apple cart when it comes to timeline and cost.
You need your solution ready sooner! 🚀
Sometimes you'll have a deadline that falls outside of our timeline guidelines. In these instances, we'll carefully assess the need with you to determine whether we can make it work and do so in a way that allows us to deliver the quality you're looking for. Usually this means adding more team members to a project than we'd usually need, which comes with a higher overall cost for your project.
Fun Fact About Factors: They're Universal!
We've been transparent with you about the factors that we weigh when pricing our custom eLearning solutions. It's important to note, however, that this list is not exclusive to SweetRush. Other eLearning solution providers will have very similar, if not the exact same lists as ours, so don't be shy in asking how the factors we've shared affect their pricing models too—especially if you are comparing costs against multiple vendors.
These factors also apply to eLearning solutions that you create and build in-house! We wholeheartedly recommend that you use this list to help determine your own internal costs, especially if you're weighing the decision whether to build something in-house versus partnering with a solutions provider like SweetRush
The more you understand about how price is calculated, the better informed and prepared you'll be when it comes to decision-making time.
Now, on to the main attraction! The price!
What Does 1 Hour of Custom eLearning Cost?
You've learned about the factors that affect cost and how we, and sometimes you, can manage and minimize those costs. Now, on to the big question: How much does it cost to create a custom eLearning solution?
We're about to tell you! 
But first, it's important to reiterate that, since everything we create is custom and there are so many factors that can impact the price, these numbers are ballpark figures. The actual cost of your eLearning solution will depend on us having a deeper understanding of your needs and requirements.
That said, we want to give you an accurate range, so we're sharing what it will cost to develop 60 minutes (one hour) of custom eLearning at three different levels. 
Each level takes into account the instructional complexity (content), creative complexity (visual design), and technical complexity (technology).
We're also sticking our necks out a little further with some average development timelines for each of the three levels. When it comes to timeline estimates, note that we're assuming that your content is both readily available and stable.
What if I have a very large project?
Great question! The prices below are based on projects with 60 minutes of seat time. If your project exceeds that time, you can expect to receive a lower rate per hour of custom eLearning development as our work is amortized over multiple hours of seat time.
Enough talking, let's cut to the chase… Drumroll please…🥁
What Does One Hour of Level 1 (Low Complexity) Custom eLearning Cost? 
Our Level 1 eLearning projects are usually built in Rise 360 and, therefore, include a number of built-in navigation devices such as scrolling and clicking to reveal content as well as interactions such as character-driven scenarios. Level 1 solutions also offer a variety of basic assessment options including multiple choice questions, matching, and drag-and-drop-style sorting activities.  
From a creative perspective, Level 1 solutions involve some customization of the eLearning interface with still photos and images as the main multimedia elements. 
This type of eLearning experience is well suited for knowledge-based content such as toolkits and interactive reference guides. It's also typically mobile responsive. 
We want to stress that low complexity does not mean low impact. Our instructional, creative, and technical teams work together to push the boundaries of our Level 1 solutions with compelling and engaging experiences to delight your learners! 
💰The price tag 💰
You can expect to pay $45,000 to $65,000 (US dollars) for one hour of Level 1 SweetRush custom eLearning.
🗓️ Typical timeline 🗓️
You can expect a Level 1 project to take, on average, 11 to 12 weeks to complete from the project kick-off date. 
What Does One Hour of Level 2 (Medium Complexity) Custom eLearning Cost?
Want to elevate the learner experience with something more immersive? Our Level 2 projects usually feature more sophisticated visual design, with 2D illustrations, animations, and avatars entering the frame. The learning experience itself is also enhanced with storytelling and with exploratory instructional techniques such as scenario-based learning and branched content and assessments. Learners might also be able to choose their path through the learning as opposed to following a linear path.
This type of eLearning experience is well suited to knowledge- and performance-based content. 
💰The price tag 💰
You can expect to pay $70,000 to $110,000 (US dollars) for one hour of Level 2 SweetRush custom eLearning.
🗓️ Typical timeline 🗓️
You can expect a Level 2 project to take, on average, 13 to 21 weeks to complete from project kick-off.
What Does One Hour of Level 3+ (High Complexity) Custom eLearning Cost?
One hour of high complexity eLearning includes all the bells and whistles to keep learners engaged (and entertained!) as they discover and practice new skills. Fully customized visual design immerses learners in the experience, enabling them to connect with the content on a deeper level. 
Whether it's a first-person simulation that tests the learner's ability to perform under pressure or a serious game that tests learners' problem-solving skills, our Level 3+ solutions will have learners on the edge of their seats as they learn and demonstrate their ability to perform.
This level of complexity is ideal for performance-based content in which learners benefit from having the opportunity to practice (and fail at) new skills in a safe, nurturing space. 
💰The price tag 💰
You can expect to pay $120,000 to $180,000 (US dollars) for one hour of Level 3 SweetRush custom eLearning.
🗓️ Typical timeline 🗓️
You can expect a Level 3 project to take, on average, 26 to 28 weeks to complete from project kick-off.
That's not all. We'll also offer you options. When you choose us as your custom eLearning partner, we will present you with at least two options at different price points. You can then make an informed choice about what you need and what budget works for your organization.
So there you have it! We've laid all our cards on the table and we truly hope what we've shared will help you to decide whether a custom eLearning solution—and better yet, a SweetRush custom eLearning solution—is right for you.
And if it is, we'd love to hear from you! Just get in touch!

If you do make the decision to reach out, know that when you choose us as your partner, we're committed to making your eLearning dreams come true! We'll also have your back by considering all the factors we've shared to ensure that we're recommending a solution that best meets the needs of your business, your learners, and your budget.
---
More Resources to Help You Decide if a SweetRush Custom eLearning Solution is Right for You
If you're not quite ready to make a decision yet and are still in research mode, we've also got your back with these resources. 
👀 Want to know exactly what you're paying for? Read What's Included in the Cost of My SweetRush Custom eLearning Solution? to find out exactly what bang comes with your buck!
👀 Looking for a lower-cost option? Read Does SweetRush Offer any Lower Cost Options for Custom eLearning? to find alternative solutions to fit your budget.
👀 Weighing the benefits of custom eLearning vs. off-the-shelf solutions? 
Read Off-the-Shelf vs. Custom eLearning Solutions: Which Is Best? for an honest look at the pros and cons of each option
Read Buy, Build, or Blend? Use Cases for Off-the-Shelf and Custom eLearning to find out when it makes the most sense to buy off-the-shelf vs. building custom learning vs. a blend of both options.
Send us your questions
Did we miss anything? What other questions would you like us to answer? What other articles can we create to help you make more informed decisions? 
Get in touch and we'll do our best to answer them for you!