At the electrifying Learning Awards 2020 gala in London on Feb. 20, the SweetRush team, along with some 600 European-based L&D peers, awaited the final and top award of the night: Learning Provider of the Year.
San Francisco, Calif., March 9, 2020 — At the Learning Awards 2020, global custom learning solutions provider SweetRush took home the coveted "Learning Provider of the Year" gold award at the Learning & Performance Institute's gala awards celebration. LPI's Learning Awards are Europe's most distinguished Learning and Development honors, and it's a momentous win that once again demonstrates the impact SweetRush's way of working and being is impacting the industry.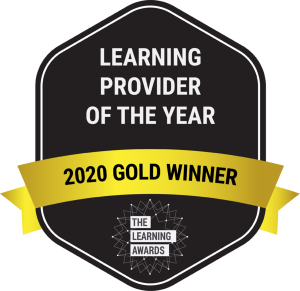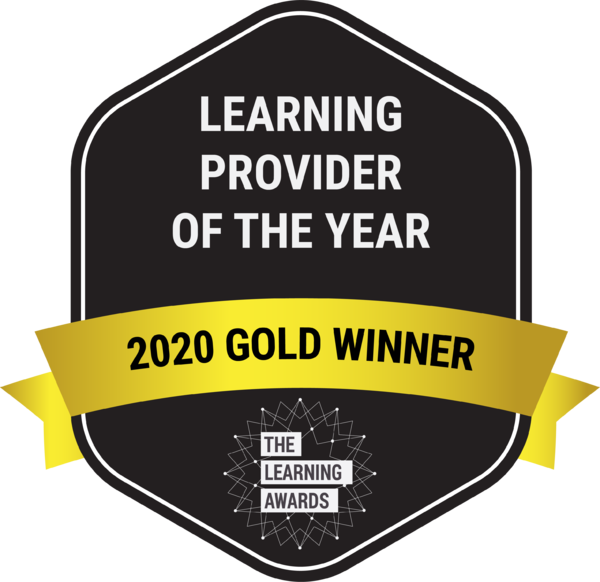 As the only U.S. finalist among some 100 vendors that night, LPI's panel of esteemed judges commended SweetRush for its ability to deliver high performance outcomes to its client-partners, its "long term relationships and positive business impact," and its "near zero turnover" of clients. LPI also called out SweetRush's cultural "values of respect, caring and commitment," and its focus on "the impact of increased learner confidence and empathy resulting from" its learning solutions—which combine sound instructional strategy with high-impact creative design to make more engaging, authentic, and relevant experiences for learners.
SweetRush Solution Architect Alexandra Jabs was thrilled to receive the award. "The Learning Awards was such an extraordinary event for SweetRush to be a part of," Jabs said. "It was incredible to see and feel the energy and enthusiasm of so many diverse learning vendors from around the world. At the same time, it was deeply moving and inspiring to know that everyone shared the same passion for enabling people to grow and develop the best version of themselves." 
"It is so meaningful to us to be recognized by our peers across the pond," said Arturo Schwartzberg, SweetRush Chairman and Cofounder. "If I had to speculate, I think the winning formula was a combination of our engaging deliverables, our work supporting nonprofits, and that our culture is one that promotes teamwork, caring, and doing good in the world."
Alexandra Jabs summed it all up this way: "Winning Learning Provider of the Year is the greatest honor and testament to that bigger vision we all share. Not only is it an opportunity to celebrate innovative, impactful, and successful projects, but more importantly, to recognize the people who bring these relationships, ideas, projects, and experiences to life—both within SweetRush and within our client-partners' organizations. During a time when technology, AI, and automation is growing, it is more important than ever to cultivate the mindsets and behaviors that are unique to human beings—empathy, communication, critical thinking, or questioning, to name a few. To be part of the world that helps to make that type of human-centered learning possible, and to be recognized for doing that work well, is just outstanding."
View this year's Learning Awards recipients. 
About SweetRush
Dream for a moment that you have the expertise and tools to positively impact the lives of others. You can affect mindsets and behavior. You can help an organization grow, change, prosper, and thrive. The passionate pursuit of this expertise and the development of these tools have been at the heart of the success SweetRush has experienced collaborating with clients who share the same dream.
SweetRush's focus on team culture and mastery of performance improvement is reflected in loyal clients, a near-zero turnover of teammates, an 18-year track record of success, and a remarkable portfolio. Our work with clients has earned us gold awards from our peers and high ranking on the top training industry lists.
Every solution we deliver is infused with creativity. Instructional creativity allows us to discover effective and unique solutions to our clients' challenges. Artistic creativity spurs us to create visually exciting, engaging user experiences. Technical creativity allows us to embrace new capabilities and platforms as they emerge, such as virtual reality, gamification, and mobile delivery. Cultural creativity empowers our clients to create the conditions that energize and empower their people and unleash the energy in their teams. Our Talent Solutions team builds on its unique knowledge of talent, team building, and learning and development to craft a unique, creative solution for clients who need the best temporary staff to augment their team. We apply the creative lens to all things, from project management to our treatment of our teammates, clients, and the planet. 
We are over 175 people strong and have been in business since 2001. Every day, we give thanks for the trust of our world-class clients. Our deliverables span from analysis and curriculum mapping to the creation of blended training products, including live and virtual classroom training, custom-developed eLearning, and innovative use of emerging technologies.
Dream with us, and together let's make a positive impact!
About LPI
Learning and Performance Institute (LPI) is a global organization committed to raising the standards of professionalism within workplace learning and its associated industries. With an unrivalled portfolio of membership, endorsement, certification, accreditation, consulting services, networking and events, the LPI retains a unique focus on "learning efficacy"; the demonstratable impact of learning on individual and organisational performance.