Award recognitions highlight the quality and diversity of SweetRush's services, including learning strategy, blended learning, gamification, mobile learning, and video.
SAN FRANCISCO, Calif., September 21, 2015 – The Brandon Hall Group announced the winners of the Excellence Awards for 2015, including the overall categories of learning and development, talent management, and leadership development. SweetRush is pleased to announce the achievement of five awards, and placement among the top overall winners for 2015.
The award-winning projects are the product of fruitful collaborations with outstanding clients that are leaders in their respective industries, and placed their trust in the talent and creative work of SweetRush's team.
The specific awards speak to the breadth and depth of SweetRush's services. From supporting a learning strategy that encourages internal advancement within a professional services organization, to creating a mobile gaming app that teaches servers at a famous restaurant chain how to create customized experiences for patrons, the award-winning projects represent effective solutions for wide range of industries, business drivers, and learner demographics. SweetRush brought home awards for learning strategy, blended learning, gamification, mobile learning, and training video.
"Awards are gratifying, energize our team, and celebrate the fantastic working relationships we have with our clients. We are incredibly grateful to scoop up five prestigious Brandon Hall Group Excellence awards." said Arturo Schwartzberg, SweetRush Chairman / Co-Founder.
"The high quality of work and commitment to driving business results among our award winners never fails to amaze me," said Rachel Cooke, Chief Operating Officer of Brandon Hall Group and head of the awards program. "All of these winning programs deliver meaningful business results to their organizations. Winning an Excellence Award is a great honor, but the real winners are the organizations themselves and their customers and clients because of the innovation and customer focus they demonstrate."
The entries were evaluated by a panel of veteran, independent senior industry experts, Brandon Hall Group Sr. Analysts and Executive Leadership based upon the following criteria: fit the need, design of the program, functionality, innovation, and overall measureable benefits.
The Five Brandon Hall Group Excellence Awards Awarded to SweetRush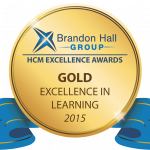 GOLD: Best Use of Blended Learning
Bridgestone Consumer Tire Education
GOLD: Best Use of Games and Simulations for Learning
Red Robin Guest Central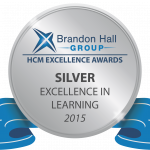 SILVER: Best Use of Video for Learning
Bridgestone Consumer Tire Education RENOA Silencer Grooves Video
SILVER: Best Use of Mobile Learning
Red Robin Guest Central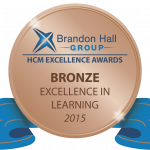 BRONZE: Best Advance in Creating a Learning Strategy
Deloitte Tax 360 Talent Development
About Brandon Hall Group
Brandon Hall Group is a HCM research and advisory services firm that provides insights around key performance areas, including Learning and Development, Talent Management, Leadership Development, Talent Acquisition and Workforce Management.
With more than 10,000 clients globally and 20 years of delivering world-class research and advisory services, Brandon Hall Group is focused on developing research that drives performance in emerging and large organizations, and provides strategic insights for executives and practitioners responsible for growth and business results. (www.brandonhall.com)
About SweetRush Inc.
Dream for a moment that you have the expertise and tools to positively impact the lives of others. You can affect mindsets and behavior. You can help a business grow, change, prosper, and thrive. The passionate pursuit of this expertise and development of these tools has been at the heart of the success SweetRush has experienced collaborating with clients who share the same dream.
SweetRush's focus on team culture and mastery of performance improvement is reflected in a near-zero turnover of teammates, loyal clients, a 14-year track record of success, and a remarkable portfolio. Our work with clients has earned us gold awards from our peers and high ranking on the top training industry lists.
Every solution we deliver is infused with creativity. Instructional creativity allows us to discover effective and unique solutions to our clients' challenges. Artistic creativity spurs us to create visually exciting, engaging user experiences. Technical creativity allows us to embrace new capabilities and platforms as they emerge, such as gamification and mobile delivery. We apply the creative lens to all things, from project management to how we treat our teammates, clients, and the planet.
We are over 100 people strong and have been in business since 2001. Our deliverables span from analysis and curriculum mapping to the creation of blended training products, including live and virtual classroom and the full gamut of custom-developed e-learning modalities.
Dream with us, and together let's make a positive impact!
Contact:
Carolina Montero
Marketing & Communications Specialist
SweetRush Inc.
[email protected]