The company joins the list of top overall winners in the prestigious awards competition, bringing home awards in a wide variety of categories that include sales training, new hire onboarding, mobile learning, learning games, accessibility, video, and innovation.
San Francisco, Calif., September 11, 2017 — SweetRush, a leader in performance improvement, custom learning content, and learner engagement, was recently awarded 17 coveted HCM Excellence Awards, including 13 Gold awards, from the Brandon Hall Group. The company, which placed among the top overall winners in 2017, shares these recognitions with its client-partners Bridgestone Americas, Cisco, Google, Hilton, and Pfizer.
SweetRush brought home awards in a wide variety of categories, demonstrating the breadth and depth of its capabilities and innovation in developing custom learning solutions. The company won for its sales, new hire onboarding, and certification training programs, as well as for methods of delivery and engagement, including mobile learning, performance support, video, learning games, accessibility, and learning technology.
SweetRush's commitment to innovation is reflected in its three wins in the "unique and innovative" categories, and the award it shares with client-partner Google in the learning team category exemplifies SweetRush's commitment to partnership.
A panel composed of independent senior industry experts and Brandon Hall Group senior analysts and executive leadership evaluated the entries based on the following criteria: fit the need, design of the program, functionality, innovation, and overall measurable benefits.
Here is SweetRush's complete list of 2017 HCM Excellence Awards: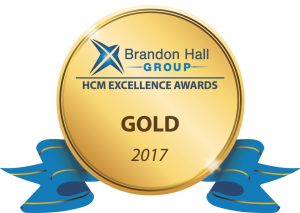 GOLD – Best Advance in Custom Content
GOLD – Best Results of a Learning Program
GOLD – Best Use of Blended Learning
GOLD – Best Certification Program
GOLD – Best Use of Games and Simulations for Learning
GOLD – Best Use of Mobile Learning
GOLD – Best Use of Performance Support
GOLD – Best Use of Video for Learning
GOLD – Best Unique or Innovative Learning and Development Program (two wins)
GOLD – Best Advance in Training Programs that Require Global Accessibility Standards
GOLD – Best Sales Training & Performance Program
GOLD – Best Unique and Innovative Sales Training Program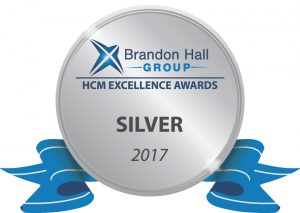 SILVER – Best Learning Team
SILVER – Best New Hire Onboarding Program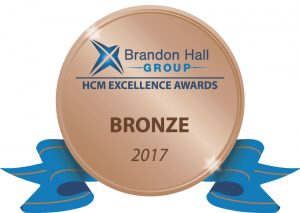 BRONZE – Best Advance in Learning Technology Implementation
BRONZE – Best Program for Sales Training and Performance
"There are few industries with so broad an application as ours to shape culture, values, operations, and the overall daily work experience. It is a thrill to work with so many amazing client-partners in a time of rapid change and emerging technology," said Andrei Hedstrom, SweetRush CEO. "We have been rewarded year after year—for sticking to our values of caring for and committing to our client-partners, our team, and the world around us—with the opportunity to elevate our little piece of the industry. Our hats off to the large community of quality L&D professionals—past, present, and future—for their contributions to human learning and their commitment to engaging the significant challenges of our time."
"I'd like to take a moment to focus inward and express how proud I am of the SweetRush team," said Arturo Schwartzberg, Cofounder, and Chairman of SweetRush. "Working in the custom development space means every client project is challenging and unique, and that means getting up every day to design and implement solutions that require extreme innovation and commitment. I stand in awe of the superstar SweetRush team."
"Excellence Award winners symbolize the power and impact that human capital management practices can have on a business or on any organization," said Rachel Cooke, Chief Operating Officer of Brandon Hall Group and head of the awards program. "Many organizations can have great HCM initiatives, but the standard of excellence only applies for organizations whose HCM practices truly benefit the business. That's what the Excellence Awards program stands for, and that is what Brandon Hall Group stands for."
The full list of 2017 winners can be found on the Brandon Hall Group website.
About SweetRush
Dream for a moment that you have the expertise and tools to positively impact the lives of others. You can affect mindsets and behavior. You can help an organization grow, change, prosper, and thrive. The passionate pursuit of this expertise and the development of these tools have been at the heart of the success SweetRush has experienced collaborating with clients who share the same dream.
SweetRush's focus on team culture and mastery of performance improvement is reflected in loyal clients, a near-zero turnover of teammates, a 15-year track record of success, and a remarkable portfolio. Our work with clients has earned us gold awards from our peers and high ranking on the top training industry lists.
Every solution we deliver is infused with creativity. Instructional creativity allows us to discover effective and unique solutions to our clients' challenges. Artistic creativity spurs us to create visually exciting, engaging user experiences. Technical creativity allows us to embrace new capabilities and platforms as they emerge, such as gamification and mobile delivery. Cultural creativity empowers our clients to create the conditions that energize and empower their people and unleash the energy in their teams. Our Talent Solutions team applies the lens of creativity, building upon its unique knowledge of talent, team building, and learning and development, to craft a unique solution for clients who need the best temporary staff to augment their team. We apply the creative lens to all things, from project management to our treatment of our teammates, clients, and the planet.
We are over 100 people strong and have been in business since 2001. Every day, we give thanks for the trust of our world-class clients. Our deliverables span from analysis and curriculum mapping to the creation of blended training products, including live and virtual classroom training and the gamut of custom-developed eLearning modalities.
Dream with us, and together let's make a positive impact!
About Brandon Hall
Brandon Hall Group is an HCM research and advisory services firm that provides insights into key performance areas, including learning and development, talent management, leadership development, talent acquisition, and workforce management. With more than 10,000 clients globally and 20 years of delivering world-class research and advisory services, Brandon Hall Group is focused on developing research that drives performance in emerging and large organizations and providing strategic insights for executives and practitioners responsible for growth and business results (www.brandonhall.com).