News
Blog
Industry News
---
The session will focus on thinking outside the box to increase interactivity and engagement for mobile learning solutions using Adapt. San Francisco, Calif., October 20, 2017 — SweetRush and Google will team up to present "Adapting Your Mobile Learning Strategy with Open-Source Interactive Solutions" at 3 p.m. Thursday, October 26, at DevLearn Conference & Expo…
The Stevie Awards for Great Employers recently announced 2017 winners, and SweetRush was recognized for the second straight year in the Leadership or Skills Development Solution Provider of the Year category, earning a Silver award. For its collaboration with client-partner Bridgestone Americas, SweetRush also received a Silver award in the Achievement in Workforce Development and Learning category.
SweetRush joins the list of top overall winners in the Brandon Hall Group Excellence Awards, bringing home awards in a wide variety of categories that include sales training, new hire onboarding, mobile learning, learning games, accessibility, video, and innovation.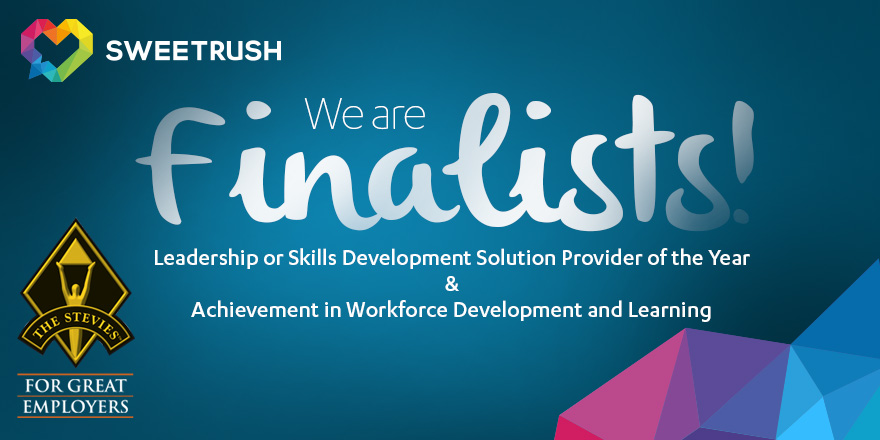 The performance improvement company is a finalist in two categories in the Stevie Awards for Great Employers.
For most of my adult life, I had difficulty breathing through my nose. This dramatically affected my health and state of mind—I couldn't sleep well, I suffered from severe allergies, and I had to breathe through my mouth all the time. (Take a moment, breathe in, and give thanks.) And as you can imagine, the…
"A new focus on accountability, data, transparency, and 'diversity through process' is driving efforts around unconscious bias training and education throughout the business community. Despite these efforts, however, we see a reality gap. Issues around diversity and inclusion continue to be frustrating and challenging for many organizations." —Rewriting the Rules for the Digital Age: 2017…
I feel very fortunate that throughout my career, I've had the privilege of working at great companies doing what I love most: recruiting! When I first applied for an internship in Human Resources, I thought to myself, "Bah! HR sounds so boring." I couldn't have been more wrong. I ended up recruiting IT and creative…
I have been working from home for SweetRush, a virtual eLearning company, for four years. My coworkers are some of the most talented, creative, and hardworking people I have had the pleasure to work with. Day after day, I collaborate with my team to create engaging and unique online courses. Through the course of the…