News
Blog
Industry News
---
The recognition highlights SweetRush's partnership with Hilton in developing an innovative mobile learning solution for hospitality workers.
SweetRush joins the annual list of industry-leading training partners for the third year in a row.
SweetRush brings home a Gold award in the Training Mobile Sites & Apps category and two Silver awards in the Training Video category.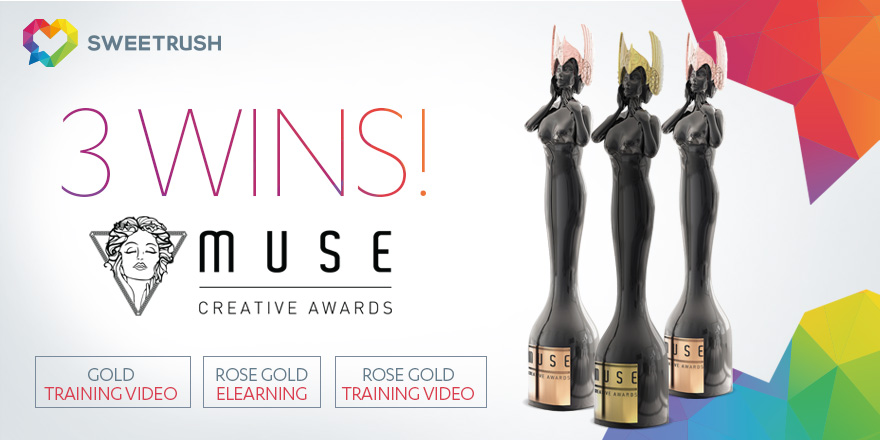 The Muse Creative Awards announced winners for 2017 and honored SweetRush Inc. with three prestigious awards. SweetRush won two awards in the Video Training category and one in the Website eLearning category.
I have been working from home for SweetRush, a virtual eLearning company, for four years. My coworkers are some of the most talented, creative, and hardworking people I have had the pleasure to work with. Day after day, I collaborate with my team to create engaging and unique online courses. Through the course of the…
Imagine that you need to buy a dress or a suit for a formal event. What do you do? Maybe you take a look around the store, search for something that you like, and then…There it is, on the rack, the perfect one. You are not sure if it's the right size or what fabric…
Running a successful large-scale learning program is no easy task. It requires a program manager with great communication skills, the right tools, and the ability to orchestrate multiple teams. Orchestration and communication are the keys to success in #projectmanagement https://t.co/HT9IH1NmSW #SweetRushway — SweetRush, Inc. (@SweetRushInc) March 2, 2017 Of course, there's more to it than…
The quintessential example of a visionary is Martin Luther King Jr., who led the fight for civil rights with strength and compassion. Visionaries like King have one thing in common—they all have a clear, long-range view of how things should be. True visionaries pair their vision with their ability to manipulate a medium or system…