At one time, I rolled around with a trunk full of software manuals and other training materials. As expected, these quickly became obsolete and eventually met their maker at a beachside bonfire. Yes, prior to 2002, I spent a significant amount of time on the road, delivering software training. After 9/11, based on budgets, an unknown economy, and other various reasons, the instructor-led training (ILT) deliveries and their related travel adventures significantly dwindled.
After seeing a few coworkers laid off, I decided to investigate how I could make myself invaluable so I was not caught in the crunch. I knew my willingness to pick up the office housekeeping and other basic clerical work would only get me so far. After a few Internet searches, I had the brilliant notion of how to deliver this same software training from my desk — with no travel time and for a fraction of the cost. It really did seem like an ingenious concept to me at the time. Looking back, my lack of knowledge on virtual delivery platforms seems utterly ridiculous!
Let's skip ahead to today. Many tools exist for the delivery of virtual training — or vILT, as those of us who are "in the know" call it. These range from the free and basic to the fee-based, offering an array of dazzling features. Virtual training supports green and cost-saving initiatives put forth by today's companies including:
Reduction in travel time impact and costs. Flights, cars, hotels, renting conference rooms, meals and refreshments, etc. are all considerations when delivering an ILT. I will admit I have seen some fantastic places in my business travels, but some were certainly not on my bucket list!
Increased efficiency with reduced seat-time. With the virtual platform, the content presentation is more likely kept on track (by muting participants) and creating designated windows for Q&A, discussions, and off-line collaboration or "homework."
Significant reduction in printed materials. Digital materials are easily maintained and up-to-date. Participants can print — or not — what is needed on-demand. I now must obtain my kindling from other sources.
Don't think of vILT sessions as an instructor delivering a PowerPoint® presentation over the web – that's a webinar, which does serve a purpose in certain instances. True vILT incorporates instructional design principles, and encourages participant engagement though the use of breakout rooms and other collaboration tools.
Read on for Part Two, all about the creative options for virtual training.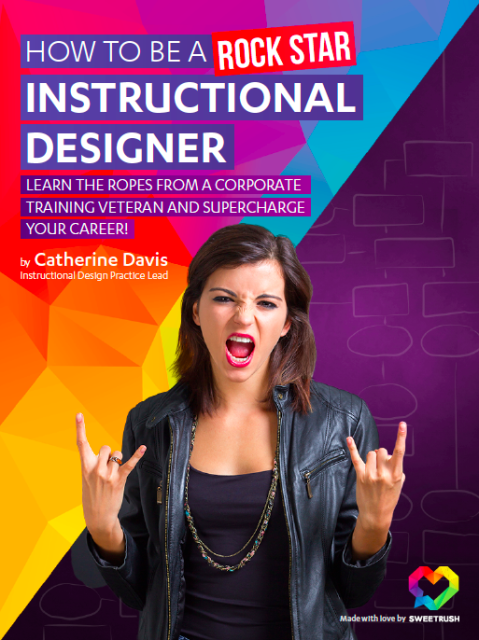 Catherine Davis is SweetRush's Instructional Design Practice Lead. You can read more strategies and tips from Catherine in her free eBook: How to be an Instructional Design Rock Star: Learn the ropes from a corporate training veteran and supercharge your career!
Get it here: https://www.sweetrush.com/instructional-design-career/